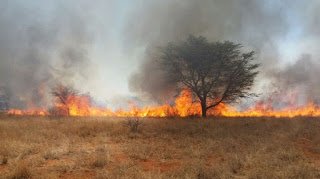 Precila Takabvirakare
GUTU – Chittas Driving School owner Sam
Nyanyiwa mysteriously died last week at his stand in Chomfuli location close to
Gutu garage whilst he was burning rubbish.
Sources said that
as he was cleaning the yard he decided to burn the rubbish and the fire went
out of control.
He then tried to
contain the fire but was overwhelmed by the heat and smoke which suffocated him
and he died.
The driving
school instructor Enerst Mahachi confirmed the incident saying he was the first
person to be at the scene.
"I was at the office when I received a call
from people who were at Gutu Mission Hospital saying they were trying to call
him so that he could come and pick them up but he was not answering his mobile.
"I went there
and took them. After that I went for a 30 minute lesson in Chomufli location
and came back but my boss had not come. I became worried and tried his phone
but there was no answer. I then decided to go check at his house that is when I
found him lying dead on the ground in the backyard," said Mahachi.
Nyanyiwa is survived
by his wife and three children.