A buoyant Marange Apostolic man, who is so observant to his church's doctrine that forbids members to go to clinics and hospitals, mutilated his pregnant wife's genital parts in a bid to enlarge the birth canal using a sharp razor blade as the wife struggled to deliver the baby recently.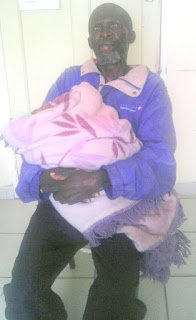 Chandafira Mutereri holds his newly born baby
Nyevero Dumbu recovering at Gutu hospital after she was mutilated by her husband during birth of her baby
As if that was not enough, Chandafira Mutereri (65) of Chamba village under Chief Chiwara in Gutu, went on to use a needle and twine to stitch the wound soon after the wife delivered the baby.
Mutereri, who confessed that his church does not allow members to seek medical attention, said he decided to use the razor bladed to enlage the birth canal after realising that his wife was struggling to push the baby out.
His first wife died after she developed complications soon after a home delivery and Mutereri had to marry second wife Nyevero Dumbu (29).
Nyevero, who has never set her foot at a clinic or hospital since she got married however, fell pregnant and had to deliver her baby at home.
She however, had complications during the delivery and her husband Mutereri then used a razor blade to widen the birth canal before he used a needle to sew stitches on the preivate parts.
A local healthy officer who was only identified as Mukanye however got wind of the development and visited the homestead before threatening to take Mutereri to the police if he continued to deny his wife access to medication.
It was then Nyevero's father Taruona Dumbu was informed about the development and immediately took her daughter to Gutu hospital.
"We all tried to knock sense into Chandafira's head but it did not work. After our daughter delivered at home she begun to show some mental disturbance and her wound on the left foot was getting worse. Nyevero lost her first two children due to home deliveries and this time around she continued to bleed after giving birth. We later took her to Majada clinic after we were notified by a local health officer," said Dumbu.
District Social Welfare Officer, Felix Mashamhanda, wrote Nyevero a letter authorising free medical examination and treatment as and when necessary for the whole year which they took to Majada Clinic.
A nurse on duty at Gutu hospital said Nyevero was recovering well but she urged pregnant women to desist from home deliveries.
"When she arrived here, Nyevero was in a bad state, the wounds were sceptic and she was bleeding heavily. It was smelling all over. We forced her to sit on salted water so that the wound opened and healed faster. The problem is that she is not co-operating. We get into physical fights whenever we want to clean her wounds or give her medication.
"As for the mental state, the condition is called Puerperal Psychosis which might have been caused by the infection from both wounds. The one on her foot was also sceptic together with the one on her private parts. All those might have contributed to her mental problems. It is normal for mothers after birth to suffer fromthe condition but we are now worried about Nyevero since she is not improving. The wounds are, however, healing and only her mind is not recovering," the nurse said.
Mutereri however, said there was nothing amiss on Nyevero especially about he delivering at home.
"I did not mutilate her on my own. Mbuya Mafukidze (an elderly woman from Magombedze village) helped with the cutting. All my wives give birth at home and nothing is amiss about that. Though my first wife later died of cancer in 2012, she used to give birth at home. It's unfortunate that all the two children she gave birth at home died.
"I give them muteuro from church soon after giving birth but this time i delayed to get the muteuroi since i had no money to buy the eggs, cooking oil and salt which is needed. The wounds were going to heal at their own," said Mutereri.
A doctor who attended Nyevero who declined to be named said such wounds when left untreated may result in cervical or womb cancer.
"Nyevero's womb should be checked if its clean; the nfection might have caused damage to the womb. The bleeding has stopped but we have to clean the womb so that she can be able to have other children in future," said the doctor.
Mutereri however, was worried that his church members would not welcome him anymore since he had gone against the doctrine.
"I have sinned and now I am an outcast. If I find money today I can buy beer and start drinking because there is no way I am goingh to be forgiven for taking my wife to the clinic. This is against the church doctrine (zvinopesana nechitendero ched)," said Mutereri.
The nurses said Nyevero's three weeks old child was healthy and was still admitted in the children's ward. The nurses were forcing Nyevero to breastfeed the child since she saometimes fail to recongise the baby.
Nyevero's family however, was requesting for her discharge so that they can take her to traditional healers for help. The family her mental problem was as a result of bad omen from her husband's family.