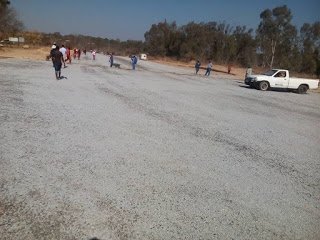 Tendai
Mange
After several weeks of no
progress, Masvingo City Council has resumed work at the Nyaradzo Life Assurance
Company road project which was paid for way back in 2016.
The life released US$43 000 to
council to connect its offices to Bradburn St with a 200m tarred surface but
council misappropriated the money and did not do the work for three years.
Council abruptly began to work on
the road this year after the matter was extensively covered by TellZim News but
work suddenly stopped when nothing much had been done.
The city engineer Tawanda Gozo
once told TellZim News that they could not give a time frame as to when the
project will be completed, only promising to work as fast as possible.
Work at the project resumed last
week, with priming work being done as well as the laying of aggregate stone.
In 2016, Nyaradzo proposed to tar
the 200 metres dusty strip of road on its using its own equipment and personnel
but the then council led by former mayor Hubert Fidze turned down the offer and
demanded that Nyaradzo give the money to council instead.
Nyaradzo surrendered the money
but nothing happened on the ground, with a stammering Gozo, after being asked
to explain the scandal, lamely blaming rainfall for stalling the project over
the previous three years.