Health centres in the City of Masvingo have joined the national bilharzia vaccination programme launched by the Ministry Health and Childcare on Monday.
Officially known as the Mass Drug Administration (MDA), the campaign seeks to prevent the spread of bilharzia and intestinal worms in children between the ages of four and 15 years.
At Rujeko Clinic, the campaign has seen hundreds of school children turning up for the vaccine; medium sized tablets known as praziquantel and albendazole.
Sister in charge at the clinic, Florence Tambaoga urged parents to make sure that their children come and take the vaccine in the interest of their health.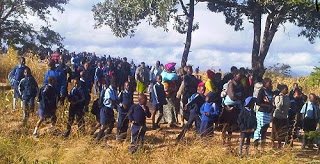 "We encourage everybody within the stipulated age group to come and take the vaccine in the best interest of their health," said Tambaoga.
She however, admitted to facing challenges from some children who take the tablets only to throw them away. This had led nurses to ask children to swallow the tablets at once before being allowed to go.
"We have challenges of children who are not willing to swallow the tablets as required. They take the tablets and throw them away elsewhere. We ask everybody to be responsible," she said.
Some school children from Ndarama High told Tell Zimbabwe that the tablets were too bitter for their liking.
"Some have failed to swallow the tablets because they have a strange sour taste that becomes too uncomfortable as you swallow," said one student.
The campaign runs until the 23rd of January.local