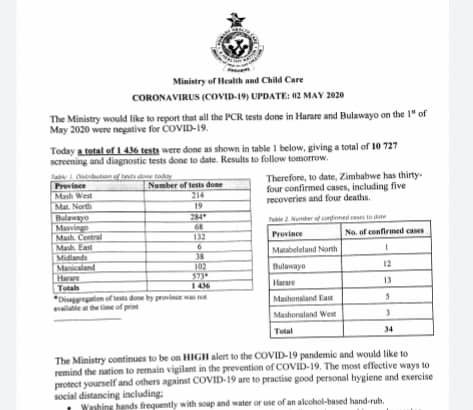 ….anxiety as province
grapples with testing kits, PPE shortages
TellZim Reporter
Many people from
Masvingo expressed disquietude after their province registered a prolonged
absence from the daily Covid-19 test results table that is released by the
Ministry of Health and Child Care, a situation which was later blamed on a shortage
of test kits.
Masvingo last appeared
on the national test results diagram on April 23 when 10 of the 460 national
specimens tested that day were from the province.
This was then followed by an
eight-day long hiatus which caused much concern until May 02 when national results
showed that 68 of the 1 436 tests done on that day were from Masvingo.
Apparently, specimens
that are sent to the country's two testing centres; the National Microbiology
Reference Laboratory in Harare and the National TB Reference Laboratory in Bulawayo are first tested at local isolation centres using Rapid
Test Kits.
Currently, the province
has 10 isolation centres across the seven districts but work is being done to
establish the 11th one at Mashava Mine Hospital.
Specimens are then sent
either to Bulawayo or Harare where confirmatory tests are done using a
Polymerase Chain Reaction (PCR) system whose results are more reliable. This
test uses sample mucus often drawn from a person's nose or throat to trace the
genetic material of coronavirus.
The first batch of
Rapid Test Kits that provincial authorities received in mid-April got finished,
and tests could no longer continue.
"We had run short of
tests kits but we have now received another batch so we will resume testing
today (May 02). Our specimens are now being sent to Bulawayo for confirmatory
tests because Harare is congested," said Provincial Medical Director (PMD)
Amadeus Shamu.
There is, however,
another nagging problem: the acute shortage of personal protective equipment
(PPE) at all hospitals and clinics, a situation which puts nurses, doctors and
other staff members at great risk.
Early last month, the
body of a woman who died after exhibiting Covid-19 symptoms at Chiredzi General
Hospital spent almost two days on the deathbed after nurses refused to take it
to the mortuary as they were not sufficiently protected.
The woman, however,
posthumously tested negative for coronavirus.
In mid-April,
government pledged a 'mass testing' programme for citizens, promising to
conduct 40 000 tests every month but that seems too hard a target considering
that the daily averages of recent days have been far off the mark.
Shamu said only
frontline health staff and those that met the criteria of clear suspected cases
were getting tested, and the service is not yet available for random walk-ins.