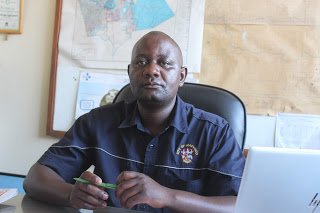 Acting town clerk Edward Mukaratirwa
Masvingo
City Council has secured land for a new dump site to replace the current one
which is inside the two residential areas of Runyararo West and Victoria Ranch.
Residents
have always complained about the discomfort of hosting a stinky dumpsite in the
midst of residential areas.
City of Masvingo
Mayor Collin Maboke recently told TellZim News the land was now available and that
they were waiting for all the paper work to be done.
"I want
to thank the Minister of State for Masvingo Provincial Affairs Ezra Chadzamira for
working very hard for us to get the piece of land onto which we can build a new
dumpsite.
"We are
only waiting for the papers to be processed but the land is already there 10
kilometers from the residential area further down Victoria Ranch," said Maboke.
Maboke
said the dumpsite was long budgeted for and the only thing that had been delaying
the whole process was unavailability of land.
He pleaded
with the land developers not to give people stands close to the dump site
again.
"I am asking
the land developers not to allocate residential stands close to the dumpsite
again like what they did in the past. We never thought there will be houses
when we decided on the area of the current dumpsite," said Maboke.