….as he mocks MDC-T over election boycott
Masvingo residents gave Acting President Emmerson Dambudzo Mnangagwa a cold shoulder for the second time within a month as a handful crowd turned up in Mamutse stadium to hear his address after the commissioning of the city council's water argumentation project at Bushmead today (Friday).
Although it was not supposed to be a rally, Zanu PF youths who were using a Public Address (PA) system went around Mucheke and other suburbs calling for members of the public to go to Mamutse stadium in their numbers in order to hear Vice President Mnangagwa speaking.
However, the turnout remained poor as only less than a thousand people including students from Great Zimbabwe University managed to attend.
In his address, Mnangagwa mocked Movement for Democratic Change (MDC-T) for boycotting the forthcoming by-elections.
"They have nothing to offer the people… all they do is to boycott elections while we continue to rule. They (MDC-T) have no legacy without calling for election boycott. We shall rule…and rule… and rule while they continue to boycott the elections," said Mnangagwa.
Mnangagwa however, said the government was ready to make some reforms where necessary.
"When they say (MDC-T) something meaningful, we take it and use that to our advantage so that we continue to rule," added Mnangagwa.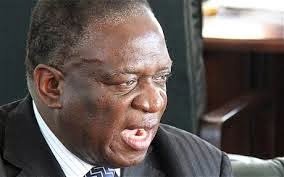 VP Emmerson Dambudzo Mnangagwa
Focusing on the water argumentation project, Mnangagwa thanked various Western countries for raising money through Zimbabwe Multi- Donor Trust Fund (Zim-Fund) which was channelled towards water argumentation for many Zimbabwean cities and rural areas.
He said the project would go a long way in the supply of clean water to the generality of Zimbabwe thereby reducing chances of water-borne diseases such as cholera.
Mnangagwa said cholera killed over 4000 people in 2008.
The African Development Bank (AFDB) is designated to manage the Zim-Fund with the endorsement of the Government, the Donor Community, and the United Nations. Local
Swedish Ambassador to Zimbabwe Lars Ronnars represented countries that contributed money to the Zim-Fund while Mr Mateus Magala was representing the AFDB.
Minister of Finance Patrick Chinamasa, Environment, Water and Climate Minister Saviour Kasukuwere, Masvingo Minister for Provincial Affairs Shuvai Mahofa and Masvingo Mayor Hubert Fidze were among the dignitaries who attended the event.Local