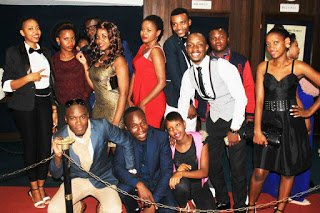 MASVINGO:-A Christian feature film, Crucibles, produced by Masvingo-based production house, Glory Media, premiered last week Saturday at Charles Austin Theatre.
Written and directed by Final Muzerengwa, also known as Fisha, Crucibles becomes the first Christian feature films to come out of Masvingo, a place known for producing mostly comedies and crime films.
Charles Austin Theatre was packed to capacity well before the movie started, with the viewership coming mainly from the Christian community as well as the entertainment industry.
In an interview, Muzerengwa said he was humbled by the diversity of the audience as he had expected only younger people.
"I was nervous when I saw a number of elderly people getting into the theatre because I had not expected the film to generate that much interest among them but I was humbled when I saw them staying until the end," Muzerengwa said
"The turnout was amazing because we had a full house and the fact that most of the people stayed until the end proved that the film is good," he said.
The storyline revolves around the struggles that young people have to face in order to keep their marriages afloat against trials and tribulations.
Award winning director and actor Charles Munganasa plays Mthandazo in the film, a man who gives his wife Rufaro, played by Kudzai Takawira, a hard time because she could not conceive.
The young couple then goes through a lot and the husband gets involved with criminals who later kill his mistress who also happens to be another man's estranged wife.
The behind-the-scenes crew is comprised of the Wezhira TV crew, which includes Howard Mpofu, Welcome Nhariswa, Prince Dube and Patience Chimhamhiwa
Most of the cast are people from the Christian community, complimented by known rapper HD, Charles Munganasa, Nicole Jamu and Reverend Sithandazile Mhlanga, wife to Glory Temple founder Reverend Ntobeko Mhlanga.news