Zimbabwe's first high court in 122 years amid cash queues as. . .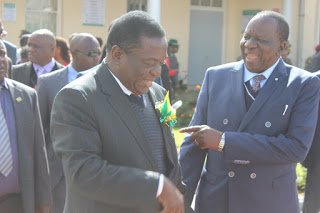 Moses Ziyambi
Vice-President Emmerson Mnangagwa on Monday mocked the snail pace at which Zimbabwe is developing its institutions, saying if the trend continues, it will take a whole generation before anything new is built.
Mnangagwa was speaking during the official opening of the new Masvingo High Court, the country's third, while long cash queues loomed nearby at ZB bank, CBZ and CABS.
The court is not only the country's first High Court in the 36 years of independence, but is also the first to be opened after the Bulawayo High Court was opened by White settlers in 1894, following the Matabeleland Order-in-Council.
"Kana zvichidazve mamwe makore akadai, kuzowana toona imwe ahhh tose tinenge taenda kuvazhinji (If it would take as many more years, we would all be dead when the next high court is opened)," said Mnangagwa.
He took a jibe at the 'we don't have money' bandwagon in government, saying the tired excuse was leading to stagnation.
"Ukanomutsa Chinamasa avete uchiti 'Chinamasa, Chinamasa!' unohwa oti, 'handina mari.' Ndo mamukire ake iwawo. Ukanomutsa Mangudya uchiti 'Mangudya, Mangudya!' unohwa oti, 'the economy is about to take off.' Asi tichangoramba tichienda kuvarume ivava kuti tibatsirike. (The Finance ministry and the Reserve Bank have now perfected the excuse)," said Mnangagwa.
Earlier on Chief Justice Godfrey Chidyausiku had also spoken out against making excuses of lack of money on projects that require little funding.
"The budget we used to establish this court took very little of the country's budget. We chose Masvingo over places like Gweru because we had our own building which we simply upgraded. We do not have a similar property in Gweru but we are working on the plans," said Chidyausiku.
Chidyausiku praised the determination of Great Zimbabwe University (GZU) Vice-Chancellor, Rungano Zvobgo, who had offered the prestigious Herbert Chitepo Law School' Moot Court as a seat for the high court, though the offer was turned down on technical grounds. 
Council of Chiefs President, Chief Fortune Charumbira castigated official ineptitude, saying lack of resources was no longer an excuse when others are making a difference.
"Be a resource yourself, that is why you were put in that job. It only requires some innovativeness and some common sense which a university degree on its own cannot give you," said Chief Charumbira.
After the event, throngs of people who had queued for cash at the banks were seen scurrying to join the queue for the free food offered to invited guests.news
—
Tel :         +263 39 262 401 
He who said it can not be done must not disturb the one doing it!