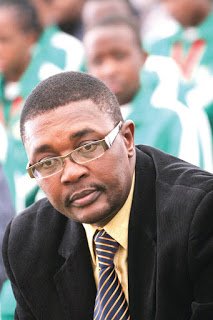 TellZim Reporter
TOURISM and Hospitality Minister Walter Mzembi recently came under fire from the people of Masvingo for failing to do anything to prop up his home province that is seriously lagging behind in national tourism promotion programmes.
He was castigated when he recently delivered a public lecture at the Great Zimbabwe University's main campus in Masvingo where he hinted that the Chinese who are all-weather friends to the Zanu-PF Government were reluctant to visit the country. 
Minister Mzembi said it was proving exceedingly difficult to court the Chinese tourists to come to Africa although he said there was need for the national airliner to resume flights to Asia.
He said he had sent a team to liaise with Masvingo's Minister of State for Provincial Affairs Shuvai Mahofa on what modalities could be put in place to promote tourism in the province.
He left people disgruntled and questioning whether dispatching a team to Mahofa is all what the minister could do for his home province in the two terms he had been minister in that same portfolio.
In an apparent admission of his failure to do something for his province he said, "We are well aware of Masvingo's great tourism potential and we have just dispatched a team to liaise with the Minister of State in the province Cde (Shuvai) Mahofa on what modalities can be put in place to promote the province's tourism sites.
"We are going to use the information to make sure we market the province both regionally and internationally," he said.
His submission was clearly unsatisfactory to the people who murmured whether the minister needed to consult a State Minister on development projects that fall directly under his ministry.
"While we applaud President Mugabe for giving the tourism portfolio to Masvingo maybe having realised the province's tourism potential, Mzembi has done little if anything to promote tourism in the province. Of course nationally, regionally and internationally he looks brilliant but what use is his brilliance when back home people are not realising the fruits of his work. He looks like he no longer belongs in the province. We know a good number of ministers who use the platform of being in cabinet to develop their areas first," said a tourism guru in Masvingo who spoke on condition of anonymity.
Mzembi and Mahofa are however not only known but sworn antagonists both in Zanu-PF and outside Zanu-PF having clashed over a white-owned farm that Mzembi wanted to seize and Mahofa refused alleging that it was strategic to the province.
Despite the province having numerous tourism attractions that if spruced up and marketed can give it some mileage regionally and internationally, the minister who is also a Member of Parliament for Masvingo South, has no doubt shown all and sundry that he has not quite measured up to the task promoting tourism in the province. 
Mzembi is known for being witty and for his wardrobe finesse. He has a good CV as a minister regionally and internationally but is failing to deliver home the products of those things that have seen his brand growing.
Maybe he is just lucky, just like most ministers in President Mugabe's cabinet. He is viewed as President Mugabe's blue-eyed boy and is in the same youthful league with Supa Mandiwanzira.
With the Masvingo being the oldest colonial settlement and having the famous Great Zimbabwe monuments where the country derives its name and where the history of the country could be told, one would think Minister Mzembi would want to be seen to be doing something for it but he seems  unconcerned.
He stressed the need to twin Great Zimbabwe and the Great Wall of China as part of strategies to tap into the Asian giant's tourism market.
"We are making efforts to tap into the Chinese market. We are considering proposing a twinning arrangement between Great Zimbabwe monuments and the Great Wall of China," said Minister Mzembi.
The province is endowed with other tourist attractions apart from Great Zimbabwe Monuments such as Kyle National Park, Gonarezhou National Park which is arguably one of the biggest wildlife conservancies in the country with a large number of the country's elephants, Malilangwe and the politically controversial Save Conservancy and many others strewn in the province.
It is in Masvingo where the largest water reservoirs in the country are found with Lake Mtirikwi and Tokwe – Murkosi Dam that is still under construction and whose completion is set to mark another great page in agriculture and tourism in the province but with ministers such as Mzembi, Masvingo's great tourism potential may just remain a pipe dream.
The death of tourism in the province has witnessed the dysfunction of Masvingo airport and the Buffalo Ranch airport in Chiredzi that were very busy during the days the economy was sound and tourists were flocking into the country. 
Mzembi has failed to champion the development of his constituency where roads are in a deplorable state and are often completely impassable especially during the rainy season.news
—
Tel :         +263 39 262 401 
He who said it can not be done must not disturb the one doing it!