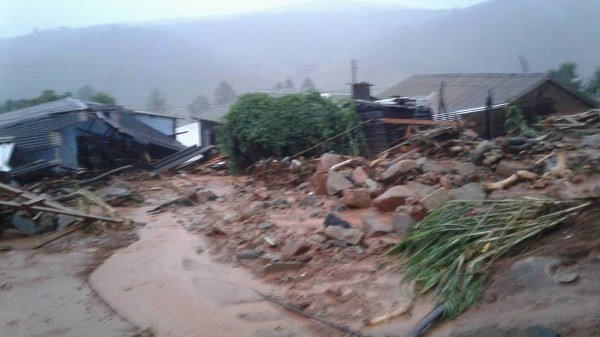 Stephen
Ephraem in Chipinge
Scenes
of family vehicles that are over-turned in residential areas, public transport
stuck on roadsides, panoramic view of house submerged in water, bridges that
are torn apart, people injured or the dead being lifted on makeshift stretcher-beds
suits a Hollywood film script.
The
scenes described are representative of the current situation in Chimanimani and
Chipinge districts after a tropical cyclone named Idai hit the southeastern
region of Zimbabwe that also includes Chiredzi.
The
region is not new to tropical rains, with Cyclone Eline hitting hard at the
turn of the millennium back in year 2 000. The strong twister left a trail of
damage to infrastructure and loss of life in Chimanimani, Chipinge and Chiredzi
districts.
The
2000 trail destroyed Changazi Bridge built on Changazi River that borders
Chimanimani and Chipinge districts about 3km from Birchenough Bridge towards
Mutare. Other bridges in Chipinge like Matembudze and Nyautsa that are along
Tanganda-Ngundu highway were also hit hard.
Other
pieces of infrastructure destroyed by tropical cyclone Eline included Chipinda
Bridge built on Runde River just outside Gonarezhou National Park adjacent to
Chipinda Pools in Chiredzi. Chipinda Bridge remains dilapidated up to this day
although others were later repaired.
Cyclone
Eline was responsible for the destruction of world class Mahenye Safari Lodge that
was built inside Save River at Mahenye in Chipinge and was owned by the then Zimbabwe
Sun Limited.
On
the humanitarian side, Cyclone Eline seriously affected people in low-lying such
areas of Chipinge as Tongogara Refugee Camp. The camp is situated closer to
Zimbabwe's largest inland waterway, Save River. The Vheneka area received a
dose of the floods since water from Save River flooded the rural settlement. At
Chinyamukwakwa, water from Musvazvi River affected homesteads but government's civil
protection arrangements made it possible to airlift to safety the affected
souls.
In
total, Cyclone Eline is on record to have killed at least 136 people damaged 59
184 houses in Zimbabwe.
As
the country was still nursing wounds inflicted by Cyclone Eline, another storm
named Cyclone Japhet hit the area in March 2003. Although Cyclone Japhet left a
trail of destruction mostly in the Zambezi basin area of Muzarabani, it went as
far as Gutu in Masvingo in the south and southeastern part of the country. This
prompted the late Masvingo-born musician Paul Matavire to pen a song named
Cyclone Japhet in that same year relating the ghastly effects of that tropical
storm. In total, Cyclone Japhet killed about seven people in the country.
In
2017, another tropical storm named Dineo took place in February 2017 and
affected the two Matebeleland provinces of Zimbabwe. People assessed Cyclone
Dineo with mixed feeling as some claimed that it actually boosted the water
bodies in the area since the region was already experiencing a drought. In the
south-eastern region, it did not leave a record trail of destruction and no
human life was lost.