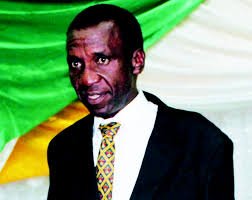 Faster Gono
CHIREDZI –
Lands, Agriculture,
Climate, Water and Rural Resettlement deputy minister Vangelis Haritatos has
praised Rtd Maj Faster Gono as an exemplary sugarcane farmer from whom other
indigenous small-scale farmers ought to learn.
Speaking at a field day held
at Incorruptible Faster Farm 17 in Hippo Valley, Haritatos said local farmers
could play a greater role in the national economy if they became as productive
as Gono.
The farm is owned by Gono, a
war veteran and former military officer.
"We are gathered here
to witness a success story of a farmer who only started cane farming in 2007
and has achieved so much. While other resettled farmers here are producing an
average 47 tons per hectare, Cde Gono is producing 114 tons per hectare while Tongaat
Hulett Zimbabwe leads him slightly with an average 115 tons per hectare.
"As a result, he is
acknowledged by the local community as an outstanding, if not the leading small
scale sugarcane farmer here," said Haritatos.
He said Gono's achievements
were a result of hard work and discipline which had seen him investing his
earnings back into the farm for greater productivity.
"The agronomist has
advised us here that this farm is run professionally in terms of management
practices, something that is clear even to me. Good agricultural practices such
as use of appropriate sugarcane varieties, irrigation water management and effective
weed management are also practiced," said Haritatos.
Representatives from Tongaat
Hulett Zimbabwe also praised Gono as a cut above the rest of the new farmers
doing business in Chiredzi, saying Gono was consistently delivering at least
100 tons of cane per hectare every year.
Also present was Defence and
War Veterans deputy minister, Victor Matemadanda who challenged other farmers
to take their work seriously and contribute more to the economy.
"Some fields look
abandoned due to poor performance and it looks like the owners are in the diaspora.
Those who are wise should learn how it is being done from the likes of Gono
rather than stay behind," said Matemadanda.
Gono's farm employs 14
people who receive between $200 and $600 in salaries, all of them registered
with the pension scheme NSSA and with the Hippo Valley Medical Scheme and Nyaradzo
Funeral Services.