The National Parks and Wildlife Management has started the process of capturing crocodiles that were causing havoc in the area for a long time now, Tell Zimbabwe has been informed.
The move came at a time when the community had petitioned the government demanding the removal of crocodiles since they were attacking and killing both people and livestock.
When the community first complained about crocodiles, Parks responded saying the reptiles were only going to be removed when they enter into people's homes. However, it did not take time before the crocodiles killed a 16-year-old herd-boy Shingirai Mangwengwe leaving the community without option besides petitioning the government.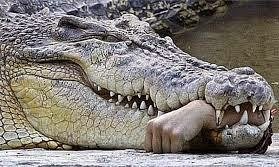 Some beef producers were already considering relocating saying crocodiles killed more than 40 cattle so far.
Masvingo Beef Producers Association chairperson Robert Makado, however, said they acknowledged efforts to remove crocodiles but the community would be grateful once all the crocodiles are captured.
"We are living in fear because until the remaining crocodiles are captured people and our are still at risk", said Makado.
National Parks spokesperson Caroline Washaya-Moyo could neither confirm nor deny the development saying she was yet to receive the report from the provincial office.local