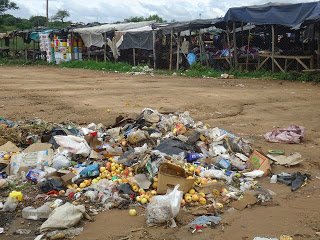 In a move dubbed by some as sardonic, ward eight Councillor, Against Chiteme on Easter Monday staged a clean – up campaign at Garikai flea market popularly known as Chitima saying as the market had gone for weeks without garbage collection.
In an interview, Chiteme said the lack of Masvingo City Council's attention to the looming health disaster at Chitima required the need for a clean-up campaign at the city's largest fruit and vegetables market.
"This is a real health time bomb as referred to by the media in many occasions and is set upon my ward. I am forced to do this using my own resources because if for example a cholera outbreak explodes, it is my ward which is at risk," said Chiteme.
Chiteme said the reaction from fellow councillors would not deter him, adding that his major concern was to maintain a clean working environment for the vendors.
"Even if management blasts me over the clean-up campaign I do not mind because I have helped them in what they have failed to do. I also look forward to do this as long as council does not collect garbage in this ward," said Chiteme.
The Chitima committee Vice – Chairperson, Shepherd Mungwaru said despite the clean – up campaign being somewhat sardonic, vendors recognise and applaud the councillor's effort which shows that he is geared to help the people where the council fails.
"This clean-up campaign is ironic as council has failed to clean up the market for quite a while. We are however happy about what Chiteme did for us today because it shows that he is there to represent the people though in most cases council fail to deliver to the plights of the people he presents to them," said Mungwaru.
A vendor, Charles Madhuura welcomed Chiteme's campaign and said they are however operating in fear as they do not know what the council has in store for them since the March 16 demonstrations which saw council not collecting a single cent to date.
"I am grateful to what Chiteme has done though vendors are operating in fear as they do not know what the council has in store for them since the demonstrations. This is because they have not collected garbage or revenue as usual from the stalls which makes us think they are neglecting us," said Madhuura.local