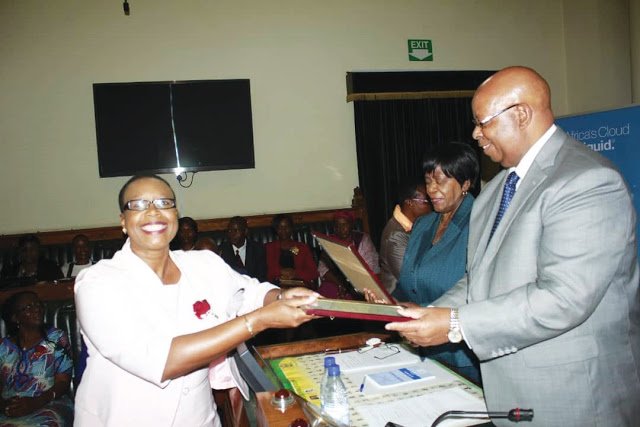 Speaker of Parliament, Jacob Mudenda hands over a certificate to one of the awards recipients

Shingirai Vambe
HARARE – Speaker of the National Assembly, Jacob Francis Mudenda recently handed over certificates, laptops and cash to 98 employees who have worked for parliament for the past 10 to 25 years.
Mudenda told those who attended the event, which was held on August 09, that the dedication of the long serving employees was immeasurable.
"As I stressed during last year's event, no service barometer can decipher the depth and degree of the selfless services these officers have rendered to parliament. The question that may be asked is how these officers managed to serve this long? The answer lies in some distinctive character traits, such traits that include loyalty to one's institution, self-motivation, discipline, tenacity and dedication to duty," Mudenda said,
Main sponsors of the awards were the Postal and Telecommunications Regulatory Authority of Zimbabwe (Potraz) and fibre optic services provider, Liquid Telecom.
Those who served for 25 years received certificates and laptops donated by Liquid Telecom, with six more laptops being donated to parliament.
Potraz director general, Dr Gift Machengeta told the award recipients that his organisation was happy to be involved in the rewarding of remarkable service.
"As a regulatory authority, we are happy to partner with Parliament of Zimbabwe in honouring its long serving employees," said Dr Machengeta.
Liquid Telecom managing director, Wellington Makamure said his company was proud to partner parliament in honouring its long serving members of staff.
"As Liquid Telecom, we rise in terms of our mandate given by Potraz by also lifting you. The donation is a challenge to you, that you can do more in your research. We need to continue working together through team work," said Makamure.
Clerk of Parliament, Kennedy Chokuda was among the long servers and he also received his award.
David Zimunhu, who works for the human resources department, received the worker of the year 2017 award.
The occasion was graced by many dignitaries including President of the Senate, Edna Madzongwe.