Bikita West coordinator for the recently launched Zimbabwe People First party (ZPF), Tsuru Gurwe's five sons were lucky to escape alive after the hut they used as a bedroom was torched by unknown assailants who and disappeared in the midnight darkness last week.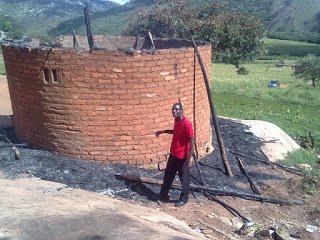 Gurwe's hut gutted by fire
Gurwe of Ward 10 under chief Mukanganwi told TellZim News that prior to the suspected arson attack, he was confronted by a Zanu-PF youth who told him that they wanted to fix him for taking ZPF to Bikita.
Gurwe who reported the matter to Bikita police station said his key suspects were Zanu- PF youths who were harassing him on a daily basis.
"My first suspects are those people who were threatening to fix me…they attacked me for bringing ZPF to Mukanganwi. When they started to threaten me, I thought they were joking but now look my house has been burnt," said Gurwe.
"It was a horrible experience for me and my family… it's not easy to see your house on fire especially knowing that your children are asleep in that house. I thank God none of the children was injured. My Grade Zero child was rescued when the roof was about to collapse," added Gurwe.
However, Gurwe said the incident will not stop him from campaigning for ZPF in Bikita.
"Zanu-PF is prepared to go to any lengths to squash the ever-increasing popularity of our party. They know we are the only meaningful opposition which is a threat to them. This incident will not deter me from campaigning for my party," said Gurwe who was once Zanu-PF chairman for Ward 10.
—
Tel : +263 39 262 401

He who said it can not be done must not disturb the one doing it!