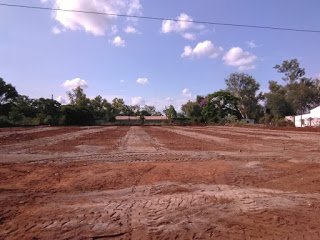 The ground that Musikavanhu prepared to develop proper market stalls for vendors
Anesushe Mamhute
CHIREDZI – Vendors in the town feel they are being used as political fodder by prospective candidates with interests in the Chiredzi West parliamentary seat, TellZim News has learnt.
At the root of their disgruntlement is the power struggle between current council chairperson Francis Moyo and his rival Farai Musikavanhu.
Vendors say the rivalry has seen them being used as political pawns.
At a meeting convened by the informal traders along Msasa Road last week, vendors said the tussle between Moyo and Musikavanhu was now affecting them.
Moyo is accused of 'misleading' vendors that the Minister of Local Government, Public Works and National Housing July Moyo had reversed Operation Restore Order and had authorised that they be allowed to go back to their undesignated selling points.
Musikavanhu, on the other hand, is blamed for apparently failing to complete the market structures that he volunteered to build for vendors opposite N. Richards Hardware.
"Moyo misled us by claiming that July Moyo had authorised that we go back to our old selling points where we had been removed through Operation Restore Order. He did that just for political expediency just like Musikavanhu did when he gave us false hope that we will have proper market stalls in no time," said one trader.
Solomon Ndarowa, who chairs an association of the vendors, revealed that Moyo had come to him with a folder purportedly containing a letter from the minister authorising vendors to continue selling their wares wherever they wanted.
"Moyo came to me with a folder which had papers but he declined to show them to me though he claimed there was a letter from the minister.
"I then approached the office of the District Administrator to get clarification and I was told no letter of that nature had been received," said Ndarowa.
A vendor who preferred anonymity said politicians should not be allowed to play around with vendors' vulnerabilities for political gain.
"All those politicians who seek to be voted into office should come out clear but not exploit our fears for their own selfish interests," said the trader.
Chiredzi West has emerged as a flashpoint for serious, and sometimes dishonest political contestation among ruling Zanu PF party politicians, with incumbent Member of Parliament Darlington Chiwa fighting to defend his seat.