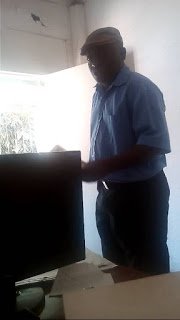 An enraged Chanayu prepares to leave after his diatribe against TellZim News
…seething party executive members storm TellZim News
…Matutu, Fidze will never represent our party
Upenyu Chaota
Irked by a story published in TellZim News last week exposing a clandestine plot to oust all the sitting MDC-T Masvingo urban councillors through imposition of new candidates, the district chairperson Murangamwa Chanyau and provincial administrator Peter Chigaba stormed the newspaper's offices and threw a fit of rage, accusing the paper of peddling a Zanu PF agenda.
Chigaba and Chanyau took turns to fire expletives while demanding to see who had written the story headlined 'MDC-T Masvingo plots coup on sitting councillors'.
The duo drove an Isuzu truck which was emblazoned with party colours and logo into TellZim News' premises, with a visibly drunk Chanyau, without bothering to provide the slightest sliver of proof, claiming that the newspaper is being bribed by Zanu PF to fight MDC-T.
The two went into overdrive accusing the paper of doing the bidding for former MDC-T legislator for Masvingo Urban, Tongai Matutu while disparaging his rival Takanayi Mureyi. Much of their theatrics at the offices was captured on video.
"Munoda change here imi? Change yacho inouya sei kana muchinyora muchidai. Muri kutengwa neZanu (PF) imi. (Do you want change in this country? How can change be possible when you write stories like this? You are being bribed by Zanu to write this trash) We expect Herald kuti idaro kwete imi (We expect Herald to write such negative stories, and not you)," charged Chigaba.
In his tirade, Chanyau, who was the most vocal, accused all in the newsroom of receiving bribes from Matutu whom he claimed was buying beer for them.
"Manje Matutu wenyu haatongi even (Hubert) Fidze wacho. Matutu is not MDC (Matutu and Fidze will never represent the party)," charged Chanyau.
Fidze is the current City of Masvingo mayor and councillor for Ward 6, but his position, as well as those held by four other sitting MDC-T councillors, has been earmarked for somebody else who is favoured by a faction of new comers.
"Munotadza kunyora about Zanu PF; hamuna kudzidza mose imi. Manje MDC ichangotonga chero mukainyora zvakashata (You are writing bad about us instead of Zanu PF. You are not educated at all – we are going to rule this country)," said Chanyau seething with anger.
TellZim News editor Passmore Kuzipa managed to douse the fire by telling the duo that the paper did not pander to the whims of any political party; whether MDC or Zanu PF, but was guided by the journalism principles of non-partisanship, balance, fairness among many others.
Kuzipa, who is also the Masvingo provincial chairman for the Media Institute of Southern Africa (MISA) said the media must not have sacred cows.
"We have people who want to be politicians and journalists at the same time; such people must go to journalism school first before they cause chaos in newsrooms. We do not have sacred cows but we are guided by journalism ethics of non-partisan reporting, balance, fair and accurate among many others. We pardon these overzealous politicians but we encourage them to go to school so that they may have an appreciation of how the media operate," said Kuzipa.