By Upenyu Chaota/Itai Muzondo
Chiredzi
– Having opened an Information Technology (IT) business in 2008, Masvingo's Quench Systems Private Limited has proved unstoppable, not only in ICT business but the media fraternity as they scooped a whooping first price award in the at the recently held Lowveld Agricultural Show.
In an in-depth interview with Tell Zimbabwe the organisation's Chief Operations Manager, Edmore Mkwenje said he was delighted that the Lord is rewarding their company for the good work they have invested in.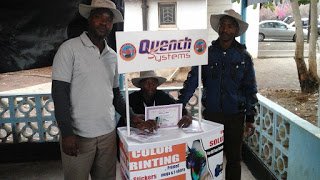 Edmore Teererai Mkwenje (right) poses for a pic after coming first in Chiredzi
"Scooping an award in the IT category was not really a surprise to me as this is the work we do best and undeniably good. It was however a surprise to me and the rest of my team to be nominated in the media category and finally scooping the first award. It is surely the Lord's hand at work," said Mkwenje.
"What has kept our organisation going and improving is sticking to our key principle that is to never compromise quality as others would do, mostly on monetary grounds.
"Our unique target area as exemplified by penetrating marginalised communities in the communal areas of Masvingo like Zaka and Chivi and exposing them to the technological world. We have since resolved to expand to Chiredzi and am proud that we have successfully set an office in Zvishavane," Mkwenje added.
The organisation's Graphic Designers also added that the awards further motivate them to give quality service to the society.
"One major accelerator to our quality is this award and others we scooped before. No one would like to destroy a name well built through visible achievements like these awards, so we will definitely work hard to maintain our good service and name in the society," said Conilius Thandi.
"If you do well, you will always be rewarded. Some may wonder why we have had such visibility but Quench Systems is the pioneer of installing internet services in schools around the province and we were the first to import the Mutton Value Jet printer which prints banners. So as pioneers of such visible work, we deserve the credit," added Edison Chivise.
Meanwhile, Quench Systems also announced that they are going to sponsor the Ordinary Level teacher of the year award from selected schools in Masvingo province.local