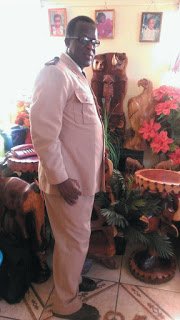 Bothwell Chabarika
The Salvation Army church will be holding its 2016 annual youth congress at Mucheke High School beginning Thursday April 28 up to the May 1.
The church, which is celebrating 125 years of existence in Zimbabwe this year, has organised a number of activities from all corps in the Masvingo Division.
Major Luckson Chimbalanga, the Territorial Social and Medical Services Secretary will be the guest speaker.
Captain Leonard Bhafu, of the Mucheke Corps, told TellZim News that such events are held for spiritual deliverance, to teach the youth about the Bible and to help them live principled lives. 
"The event is a call for a positive existence in an evil and uncaring world," said Captain Bhafu. 
He added that the focus will be on the future of the youth with lessons about living a Godly life, right channels to marriage and many other topics that affects today's youths such as peer pressure.
Major Isaac Mhembere, the Divisional Commander of Masvingo urged all those who might be interested in joining the church services to be disciplined and not to come to cause confusion.
Social sporting activities will be held during the congress.news
—
Tel :         +263 39 262 401 
He who said it can not be done must not disturb the one doing it!