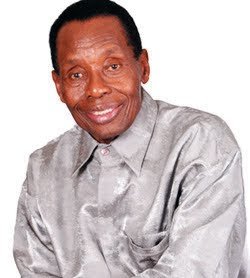 Increase Gumbo
Zimbabwe Assemblies of God (ZAOGA) Bishop and founder of Zimbabwe Ezekiel Guti University (ZEGU), Apostle Ezekiel Handinawangu Guti is set to visit Chiredzi for the first time in 16 years, TellZim News is reliably informed.
The accomplished Bishop last visited the sleepy lowveld town in 2000 though his wife, Apostle Eunor Guti made another visit in 2005.
Overseer Clemence Manyono confirmed the visit, saying Apostle Guti will grace Chiredzi together with his wife.
"The Apostles will grace Chiredzi on the first of May though we are expecting them earlier for the annual Deeper Life with all congregants before the Big Sunday which they will attend," said Manyono.
"We are again ready to host the servant and apostle of God after such a long time of waiting. Now that he is coming together with mama, we are so happy and confident that Chiredzi will be power-packed," he said.
Some ZAOGA congregants who spoke to TellZim News told this publication that Bishop Guti's visit means a lot to them.
"We are really waiting for baba Guti and it's an honour to have him here. We believe God is going to transform our lives through the servant and the apostle whom the Lord has consistently used to touch lives wherever he has been. I remember in the nineties when he prayed for the restoration of health. We saw genuine miracles happening," said one church member.
"I remember when he came to Tshovani Stadium during the nineties. A lot of miracles happened, leaving the blind seeing, the lame walking and the deaf hearing," said Christian Matsveru, another ZAOGA congregant.
The town's Tshovani stadium is expected to be filled to the brim during the 'mega' big Sunday where Bishop Guti is expected to deliver a sermon.news
—
Tel :         +263 39 262 401 
He who said it can not be done must not disturb the one doing it!