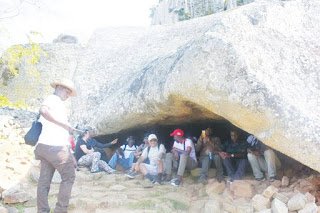 Buyers from UK, Tanzania, Uganda, Zambia and South Africa on 9 September visited the Great Zimbabwe monuments

Shingirai Vambe
HARARE – The 11th edition of the Sanganai-Hlangani Tourism Expo has been deemed a huge success after a number of exhibitors at the Zimbabwe International Trade Fair grounds received awards last Friday night.
Companies that got outstanding recognition at the expo include the Civil Aviation Authority of Zimbabwe (CAAZ) which won the Public Institution Award.
CAAZ representatives vowed to accelerate work on airports and aerodromes around the country to improve accessibility to the country's numerous tourist attraction.
Following the Joshua Nkomo Heritage Trail which was held on the September 5, buyers and tour operators from different countries around the world toured exhibition stands and also had an opportunity to network with peers.
The message being communicated to both local and international visitors was that Zimbabwe is a safe destination. This was confirmed through sentiments shared by a number of exhibitors, tour operators and tourists from mainly Asian and African countries.
The Zimbabwe Tourism Authority (ZTA), the principal organiser of the expo, facilitated a number of touring groups that have been visiting various attractions around the country after the expo. The objective of the tours were to expose the country's tourism potential to more people.
The destinations included the Mutarazi Falls, the Great Zimbabwe monuments, Hwange National Park and the majestic Victoria Falls. During the tours, visitors managed to assess the state of hospitality facilities around the country.
Speaking in Bulawayo earlier on, Vice President Constantino Chiwenga urged hotel operators exhibiting at the expo to revamp their facilities to meet world class standards.
ZTA chief executive officer (CEO), Dr Karikoga Kaseke said his organisation had embarked on an exercise to make sure that all employees working in the hospitality industry got tested and certified.
"We are encouraged, though at short notice, that the vice president has spoken about this and we are hitting the ground running to improve on service delivery. Zimbabwe is well-known for being among the best hospitality service providers and we would want to go even further," said Kaseke.
He said the request by ZTA for rural and urban local authorities to participate in this year's expo was designed to make sure they work hand in glove with tourism players in marketing their own tourist attractions.
Foreign tourists who spoke to TellZim News said they were now convinced that the negative stories in the international media concerning the country were largely inaccurate.
They were all left speechless by the magnificence of Great Zimbabwe, with many of them saying the heritage site was not being sufficiently marketed internationally.
After visiting the sky walk in Chimanimani, one buyer said Zimbabwe was a sleeping giant.
The past three editions of Sanganai-Hlanganani were held in Bulawayo at the ZITF grounds. The venue boasts excellent exhibition facilities in the country and can accommodate a large number of exhibitors.