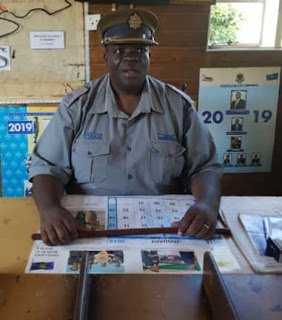 Moses
Ziyambi
Superintendent Phillip
Ncube of the Zimbabwe Republic Police (ZRP) Masvingo Central District has
retired after serving the force for close to 32 years.
Ncube officially left
office on June 17 after reaching the mandatory pensionable age for members of
the security forces.
He joined ZRP on
January 13, 1988 as a patrol officer and was posted to Nyamandhlovu in August
1988. Between 1991 and 1994, he was posted to ZRP Mbembesi before being transferred
to Nkayi where he served from 1994-1996.
In 1996, Ncube was promoted
to assistant inspector and he worked as Member in Charge ZRP Gwelutshena until
2000. He was posted to ZRP Hwange as Member in Charge Crime from 2000 -2001.
From 2001-2002, Ncube
served at CID Hwange and left after being promoted to detective inspector to
serve as Officer in Charge at CID Marondera in May 2002.
In August 2002, on
request, Ncube was transferred to CID Masvingo as Officer in Charge, and was promoted
to detective chief inspector in 2004.
In 2005, he was promoted to superintendent and
was posted at CID Serious Frauds Squad investigating such high profile cases
that of the State vs Charles Nherera and Bright Matonga (the ZUPCO Saga).
In Dec 2006, Ncube was
transferred to Mutare as Officer Commanding CID Law and Order Manicaland
province but was transferred back to Masvingo Central District the following
year but this time to work as Supt Crime. In 2008, he worked as Supt Admin, in 2010
as Supt Operations and in 2012 as Supt Crime.
In 2015, Ncube served
as Supt Admin, as Supt Crime in 2018 and later worked as Supt Admin (Masvingo
Central District) before his retirement.
"I have no plans after
retirement but I am still fit to serve as a security practitioner for the next
four or five years. I will also be doing farming since I benefited from the
Land Reform. I have a four-hectare A1 piece of land at Sanangwe Farm," Ncube
told TellZim News in an interview.
When asked about his
impression of the police force in the 'new dispensation', and whether or not it
was fulfilling the expectations of citizens, Ncube said there were notable
achievements to note.
"I applaud the new
dispensation because there is an improvement in the public's perception of the
police force. Government is also doing its best to improve conditions of
service and create a world-class police service," said Ncube.
Ncube, however, said
government should seriously look at providing more resources to capacitate the
police to provide better services.
"Some stations like
Masvingo Rural which cover farming areas have no motor vehicles. All the five
bases; Farmers Hall, Zimuto, Chidzikwe, Nemanwa and Bondolfi are poorly
equipped. Most of the time, members use their own resources to accomplish
organisational tasks.
"Supervision needs to
be enhanced by commanders and supervisors to ensure operational efficiency.
There are no vehicles for senior officers and officers-in-charge. If police
could be allowed to retain a certain percentage of revenue accrued and channel
it towards operational efficiency, we would be able to have a police force that
is more responsive to the needs of citizens," said Ncube.
He said a
poorly-remunerated police force was a breeding ground for corruption hence the
need to improve salaries to create a sense of honesty in police officers.
"Police members
interact with the elite and rich people yet they earn low salaries thus
creating a fertile ground for corruption. There is also need to improve
accommodation so that such staff as disaster management officers can be found
at one place. There is need for continuous training and for the Client Charter
to be followed to the letter.
"The corporate world can
also assist by coming up with such initiatives as business against crime forums
and crime consultative committees. The community must take more interest in
such initiatives as neighborhood watch committees, crime watch committees and
anti-stock theft committees," said Ncube.