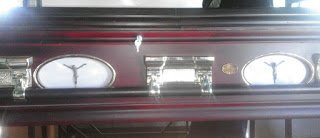 Tanyaradzwa Tizora
Former Zimbabwe Farmers Union (ZFU) President Dr Silas Hungwe who died on Monday last week in Harare was laid to rest at his rural home in Dunira Village, Chivi on Thursday 28 April 2016.
Dr Hungwe passed away two days after celebrating his 92nd birthday after three years of battling with prostate cancer.
The deceased is survived by his wife, five children and 27 grandchildren.
His burial was attended by several dignitaries among them Vice President Emmerson Mnangagwa, Minister of State for Provincial Affairs Shuvai Mahofa, Josiah Dunira Hungwe, Minister of Labour and Social Services Prisca Mupfumira, Zimbabwe Farmers Union President Abdul Credit Nyathi and Provincial Administrator Felix Chikovo.
Speaking at the funeral Vice President Mnangagwa said that the nation has lost its greatest farmer, indicating that the late Dr Hungwe was the only farmer to be given an honorary doctorate in farming and that he had done a lot to develop the agricultural sector.
"We shall forever remember the great contribution by Dr Hungwe to the agricultural sector in Zimbabwe," said Mnangagwa.
Mahofa, who is sister to the deceased, said that the province had lost an icon who had done a lot to develop agriculture and Chivi district.
"Hungwe did a lot to develop Masvingo Province. He also sent a lot of children in Chivi to school and also boosted agriculture in the area," said Mahofa.news
—
Tel :         +263 39 262 401 
He who said it can not be done must not disturb the one doing it!