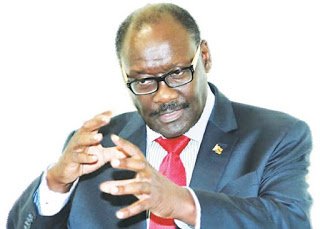 Tafadzwa Nyikadzino
Health and Child Care Minister, Dr David Parirenyatwa has expressed satisfaction at the work being done by the Zvishavane District Hospital in the delivery of health services, saying the performance by the hospital was remarkable. 
Dr Parirenyatwa, who was accompanied by his deputy, Dr Aldrin Musiiwa, toured the hospital last week as part of his two-day visit to the Midlands province.
He commented the good working relationship between the hospital and the corporate sector, mentioning Mimosa, the mining giant which has built a mortuary at the hospital.
Mimosa has also built a laundry room and a security wall around the hospital premises.
Dr Parirenyatwa expressed satisfaction with maternal and child health services at the hospital.
"We understand most new baby deliveries take place at the hospital but maternity deaths have remained low, making this hospital one of the best in the province. Other hospitals should learn from this," he said.
Speaking at the same event, Dr Musiiwa asked businesses to support health institutions so as to help improve the quality of health services.
"I am satisfied with the service at this hospital. I would like to urge the corporate world to continue supporting us," said Dr Musiiwa. 
Member of Parliament for Zvishavane-Ngezi constituency John Holder encouraged the hospital to keep on improving services to patients and to be the leader in health delivery.
However, it was revealed the hospital has shortages in the X-ray section where there is only one qualified radiographer while blood coupons being received by the hospital are inadequate.news
—
Tel :         +263 39 262 401 
He who said it can not be done must not disturb the one doing it!