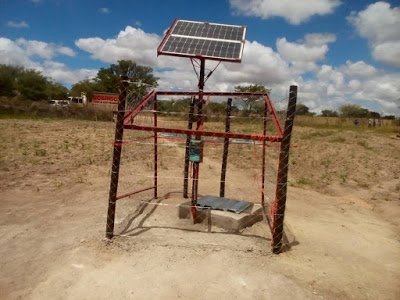 The solar-powered borehole
Virginia
Njovo
CHIVI
– Villagers
in some areas in Ward 6 close to Mhandamabwe business centre now have a
solar-powered borehole from where they can draw water for home and agricultural
use.
The borehole was
installed by Chivi Rural District Council (RDC) chairperson Godfrey
Mukungunugwa using his own personal financial resources but with some
logistical support from the Minister of State for Masvingo Provincial Affairs
Ezra Chadzamira.
The borehole is
situated at a farm owned by the Hwarare family who donated a big portion of the
land to a consortium of 30 families that are now beginning to till the land in
preparation for planting vegetables.
The borehole is made-up
of a 0.5 horsepower submersible pump which is powered by 2×80 watts solar
panels that produce 24 volts of electrical energy.
The pump takes some 30
minutes to fill up a 5 000-litre water storage tank situated close by, while a
tap installed even closer-by is also fed by the pump.
Speaking during the
commissioning of the borehole, Chadzamira said he was pleased that leaders were
becoming more and more responsive to the needs of their communities.
"It has been said that
he who gives you water, gives you life. This is a dry but potentially-rich
place which needs to be capacitated. Government needs all leaders; be they MPs
or councillors, to take the lead in finding solutions to challenges that affect
their people. I am glad that Cllr Mukungunugwa has done something tangible for
his people and it will not end there as he has assured us," said Chadzamira.
He also said his office
was open for all people who had ideas on how to improve lives in communities
where they lived.
"It should now be about
development, not politics. We are past elections and we must now work together.
My office is open for those who want to make a difference. We don't want a
culture of back-biting and demoralizing those who make an effort. This is
President Mnangagwa's vision, and we must support him," said Chadzamira.
In his own remarks,
Mukungunugwa said he had identified many other places that will soon have their
own boreholes.
"This will definitely
not end here. There are other places in the wards that I want to help with
easier access to clean water to drink. The ultimate goal is to make sure that
there is potable water at every 500 metre-distance in our district. I
appreciate the support from the office of the Minister of State for Provincial
Affairs," said Mukungunugwa.
The event was attended
by many MPs including Mathias Tongofa of Chivi North, Farai Musikavanhu of
Chiredzi West and Claudious Maronge of Masvingo South.
Other prominent people
who attended include Chivi District Development Coordinator (DDC) Innocent
Matingwina, Chivi RDC CEO Tariro Matavire and his Masvingo Rural counterpart
Martin Mubviro.