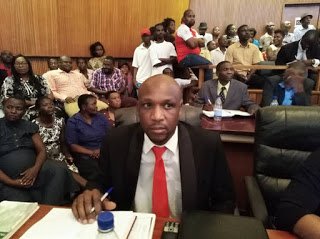 Mayor Blessing Tandi
Heather
Buzuzi
City
of Mutare will continue rationing water due to challenges in pumping capacity and
supply systems as well as purification shortfalls that are unlikely to end any
time soon, Mayor Blessing Tandi has said.
Tandi
said although the city recently received some devolution funding from government,
the money was simply not enough to buy the required amounts of water
purification chemicals and to replace old, leaky pipes.
Inadequate
water purification chemicals have forced the city to draft a stricter rationing
schedule in an effort to ensure fairer supply patterns in all suburbs.
Tandi
said a solution could lie in increasing rates but acknowledged that residents
will not take kindly any rate increment proposal as they are already facing
difficult economic conditions.
"We
did receive our allocation of the devolution disbursements for this year but
it's not enough to solve all the problems we face. We have pumping capacity
shortfalls, water purification limitations and old, corroded water distribution
infrastructure that must be replaced urgently but we have no money for all
that.
"People
are not ready for a rate hike

and this is affecting water supply
. We would want to
effectively solve the water problems in the city but the resource constraints
we face are enormous," said T
andi.