By Lloyd Shun
je/Itai Muzondo
Masvingo Mayor, Hubert Fidze, has said that a total of US$25million is needed for the complete refurbishment of the city's roads which are currently in a deplorable state with some of them becoming virtually impassable.
This was revealed by the mayor at a breakfast press briefing organised by the Media Institute of Southern Africa (MISA) in the Doug Hill Room at the Charles Austin Theatre on Wednesday. The revelation came as the mayor expressed that council did not have the capacity to raise the total required for road maintenance in view of the prevailing economic conditions.
"We really plead with the people to come along and co-operate by paying the road levy as a direct injection of money. Council on its own cannot raise the US$25 million needed to put the city's roads back in shape. The road levy will definitely give us considerable money to upgrade our road networks," he said.
The mayor explained that as council they were aware that the city's roads had become nearly impassable but short of raising US$25m the status quo would continue with council only maintaining the roads instead of resurfacing them. He added that what they expected from ZINARA and what could be raised from the road levy was sufficient only for the maintenance of the roads and the clearance of storm drains.
Fidze's sentiments echoed the Town Engineer, Tawanda Gozo's recent sentiments at the full council meeting that ZINARA has not remitted the proposed US$375 000 for road maintenance thus the council's decision to collect a road levy.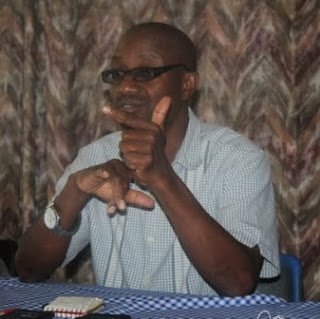 Addressing journalists… Mayor Hubert Fidze
"The proposed US$375 000 is not yet in the council's coffers. ZINARA just mentioned their intention to give the money to the council but we have not received anything yet. We also fear that if we fail to collect the road levy, the expected funds from ZINARA may not come in full as what happened in 2014 when we were promised US$115 000 but later only received US$70 000," said Gozo.
The engineer promised to deliver to the community saying they have already drawn proposals for the disbursement of funds either from ZINARA or from the road levy.
Meanwhile, the full council meeting held on January 19 reported that the US$375 000 promised by ZINARA is not enough for the efficient maintenance of roads proposing a lump sum of US$5 million for the project. The clarification came at a time when civic organisations like the Masvingo Residents Trust (MRT) had sent a petition to the mayor arguing that residents were not prepared to pay the proposed levy.local