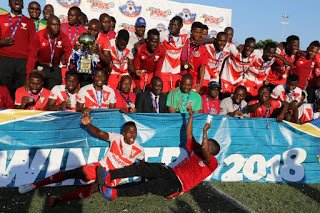 Triangle United Football Club,
popularly known as the 'Sugar Sugar Boys', are now preparing for the hard work
that awaits them in the African Confederations Cup which will be held in August
2019.
The team qualified for the cup
after beating Harare City two nil to lift the Chibuku Super Cup in the final
played at Gibbo Stadium last weekend.
Triangle FC coach, Taurai Mangwiro
became the man of the moment since that was his second time winning the cup;
the first time being back in 2015 when he was still with Harare City FC, the
same team he defeated last week.
"We are pleased with this hard
victory which is a result of tireless work and the support of sponsors and
supporters. We say thank you to everybody and we are now looking forward to the
bigger task that lies ahead," said Mangiro.
Triangle FC president, Adelaide
Chikunguru, who is also Tongaat Hulett Zimbabwe corporate and communications
affairs manager, said she was excited by her team's display of great
sportsmanship.
"Our players are exhibiting world-class
football and they definitely deserve to play in bigger championships. The likes
of Lameck Nhamo, Ralph Kaondera, Phineas Bhamusi and goal keeper Ronald Mudimu
are amazing.
"The team has benefited a lot from
junior players as well as the more seasoned ones through our Ramangwana Junior
Training Programme. We are excited that the PSL provides national and regional
platforms for our youths to take up soccer professionally.
"Like any other sport, football can
be a lifelong career if taken professionally and this is what we are
encouraging through our sport development programme at Tongaat Hulett,"
Chikunguru said.
She said the company was ready to
meet the needs of then team as it prepares for the continental challenge.
"Our investment into the team is
paying dividends as they will now carry the Huletts sugar brand further afield.
All things being equal, the plan is to get the team playing in the
confederations cup in 2019," said Chikunguru.