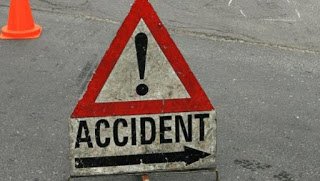 Tafadzwa Nyikadzino
ROY – A war veterans meeting held on June 4 in Gutu ended on a sad note with a group of war collaborators getting involved in a fatal accident which claimed 2 lives and injured 32 after the lorry they were travelling in veered off the road and overturned.
Masvingo Provincial Police Spokesperson Inspector Charity Mazula confirmed the accident and warned drivers against speeding to avoid endangering human life on the highways. 
The accident took place near Gutu turn-off along the Masvingo-Mutare highway when the lorry driver, Clifford Musana veered off the road after failing to negotiate a curve as he drove.
One person died on the spot while another died on arrival at Ndanga hospital where the injured were also admitted.
The lorry was carrying 36 people, with 13 of them sustaining serious injuries though they were said to be stable.
The names of the deceased people are Panganai Banda (58) and Sarah Muchipi (60).news
—
Tel :         +263 39 262 401 
He who said it can not be done must not disturb the one doing it!