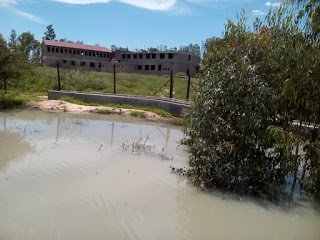 The GZU Medical School is still under construction
The Great Zimbabwe University (GZU) Medical School will have to manage without access to municipal water after council turned down the institution's request to be connected.
The issue came out in a full council meeting held at Civic Centre on Monday, January 27, 2020.
The university recently wrote to council requesting that the under-construction medical school, which is situated at the former Riverside Lodge close to Mucheke River along the road to Bulawayo, be connected to municipal water.
The Public Works and Planning Committee, after meeting to deliberate the request, turned down the request citing an acute water deficit in town. With advice from the engineering department, the committee wrote back to GZU saying diminished pressure in the water pumping system means the medical school will not receive supplies even if it was to be connected to the infrastructure.
In the full council meeting, Ward 10 Cllr Against Chiteme, however, took a different position, saying council would better connect the medical school and then communicate the problems at hand.
"I feel it is a wrong decision to turn down the GZU request. This is one big investor who may help us in the long run. It would be better to communicate with them the problems we face but connect them nonetheless rather than turn them down outright. They might be in a position to help us improve pressure in the pumping system," said Chiteme.
He was then supported by Ward 4 Cllr Godfrey Kurauone who said there were less deserving institutions that still received municipal water.
"We have institutions that receive water yet they seldom pay for it. All GZU institutions are better clients because they pay their bills. It is better to connect them and we then help each other find a solution," said Kurauone.
Acting town clerk Edward Mukaratirwa then stood up and said council had not simply turned down the GZU request for the sake of it, but had acted as per engineering advice with regards to pumping pressure.
"We realised that water will not be able to flow to that place even if it was to be connected today due to depressed pressure in our systems. Other reticulated areas close to the GZU Medical School are not even receiving water for the same reasons," said Mukaratirwa.
It was then agreed that the case be sent back to the Public Works and Planning Committee for further deliberation.
Recent minutes from the commitee state that the place will never receive water under the obtaining circumstances.
"It was noted that there was already a Council water supply connection to Glyntor Farm where the Medical School is being developed, which lies outside of the Municipal commonage. However, due to water deficit in town, the area would not get water. The University had previously requested Council for water supply but it had been advised that there was inadequate water in town to supply Glyntor Farm," reads part of the minutes.