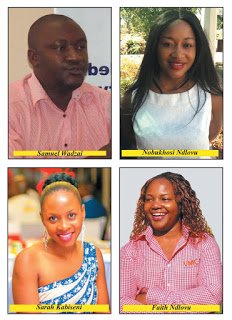 Moses Ziyambi
Just recently, United States Embassy announced the selection of 60 young Zimbabweans who were invited to participate in the Mandela Washington Fellowship Programme under the Young African Leaders Initiative (YALI) in the United States of America.
YALI is part of the United States' commitment to invest in the future of Africa and was created out of a recognition of the critical role that young Africans play in strengthening democratic institutions, spurring economic growth, and enhancing peace and security in Africa.
The list has 31 males and 29 females with 19 participants residing outside Harare. Three participants are young leaders with disabilities. The participants were selected through a competitive application process and more than 1 600 had applied.
TellZim News caught up with four of the participants.
Samuel Wadzai: Is founder and Executive Director of Vendors Initiative for Social and Economic Transformation (VISET), an organisation representing street vendors; working to enhance their ability to trade freely and create a favourable policy and legislative framework which facilitates access to finance and profitable markets.
Wadzai says he is troubled that vendors are not recognised as entrepreneurs but are instead demonised and harassed like criminals.
"VISET therefore champions their cause by pushing for the removal of obstacles that inhibit street vendors from trading freely and profitably," says Wadzai.
He has over seven years' experience in the fields of human capital development, human rights, community mobilisation and institution building. He is also the founding Director of National Vendors Union Zimbabwe (NVUZ).
Wadzai is a former president of the Student Executive Council at the Midlands State University (MSU), Treasurer General of Zimbabwe National Students Union (ZINASU) and the Networks Coordinator of Elections Resource Centre.
Nobukhosi Ndlovu: A holder of an Honours degree in human resource management and a Master's in Marketing Strategy, Nobukhosi worked for a human resources consultancy firm for five years before pursuing her own dream and starting her own company in 2013.
She started Caudliss Trading, a company which trades as Nutrie Foods, with the aim of value addition to agricultural produce while economically empowering rural women farmers.
Her company manufactures peanut butter, maputi, and packages matemba and salt.
"My aim is to grow the Nutrie brand and make it a household name. I want to grow the business, create more employment and tap into the export market. I started small but with hard work and determination, I am growing big," said Ndlovu.
Faith N. Ndlovu: Is a Programmes Officer at the Voluntary Media Council of Zimbabwe (VMCZ) and has worked in the media and non-profit sector for over six years.
Faith's current work involves initiating, designing and implementing interventions to promote a free, professional, accountable and ethical media sector in Zimbabwe as well as monitoring and evaluating programmes.
She started her career as a researcher with the Media Monitoring Project of Zimbabwe, an independent Trust working to promote balanced news reporting in Zimbabwe.
She joined the VMCZ in 2014 where she has assisted the organisation to enhance its public engagement programmes, which has contributed to increased public media literacy skills and promoted ethical and professional journalism in Zimbabwe.
She holds an Honours Degree in Journalism and Media Studies from the National University of Science and Technology (NUST) and is working towards attaining a law degree with the University of South Africa (UNISA).
Sarah Kabiseni: Is a Business Science Accounting graduate from Monash University and is alumnus as a finalist to the prestigious SAICA leadership (SLS) venture. 
She is an advocate of the Green Earth Initiative, a cause aimed at proper waste management through recycling, reducing and reusing for sustainable environmental management. 
An astute entrepreneur, she has run various business ventures in the fields of events and waste management. Currently Sarah works for Total Zimbabwe, mainly in the finance department as an accountant. Within Total she is an active member of the innovation team that focuses on corporate culture improvement and all areas that motivate growth in innovation.
She has passion for sport, and is a co-founder and member of the Lady Hustlers community basketball team that plays in the Harare Basketball League and also plays soccer for the Total football team.news
—
Tel :         +263 39 262 401 
He who said it can not be done must not disturb the one doing it!