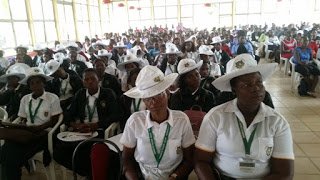 Clayton
Shereni
The Zimbabwe Congress of Students Union
(Zicosu) has demanded fairness and transparency in the use and disbursement of Zimdef
funds which are aimed at
human capital development and assisting
underprivileged students at tertiary institutions.
Speaking during a Zicosu provincial students'
convention held at Masvingo Polytechnic, Zicosu national president Pijiwest
Nhamburo said the funds must be properly channeled to benefit the students in
all tertiary institutions.
"Zimdef funds were previously used by the
likes of Jonathan Moyo to buy bicycles in Tsholotsho but this money is for
students. If those funds are there let them be used for the benefit of students
because we want to promote innovations and inventiveness among students.
"Students must create inventions that benefit
our industry and if we fail to support these inventions through the funds, who
are we promoting? The money should be used by the students," said Nhamburo.
He accused higher and tertiary institutions
authorities of abusing the money and proposed the inclusion of universities and
vocational training centres into the programme.
"We have been in constant dialogue with the minister
and he has been referring and telling us that Zimdef funds are there. We beg
you to consider students at vocational training centres, universities and agricultural
colleges because they are also students," said Nhamburo.
Responding to the concerns, guest of honour
at the event and Deputy Minister of Defense, Victor Matemadanda said the funds
were going to be disbursed accordingly and promised to engage the ministry to
map the way forward.
"Concerning Zimdef funds, it's now a good
thing that these days there are no thieves. Existing security nets around
Zimdef funds do not allow the minister to misuse the funds in the manner that
Jonathan Moyo did. If it is stolen, then there will be a group of people who
would have agreed to steal the money.
"I will go and talk to the relevant minister.
Your superiors must keep in touch with me but we are going to push so that you
get the money," said Matemadanda.
Unfair allocation of the funds has seen
school authorities clash with students who feel shortchanged.
Former Minister of Higher and Tertiary
Education Jonathan Moyo stands accused of channeling some of the money towards
his campaign trail in Tsholotsho.