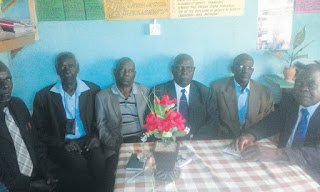 Kudzai Matava
The Zimbabwe Burial Society (ZBS), a non-profit organisation which supports bereaved families across the country, is making strides as an all-weather friend that has for a long time stood with low income people who cannot afford to finance funerals of their loved ones on their own.
The society was founded by Matthew Dzvimbu in 1962 to help Harare-based Gutu people with logistical arrangements for decent burials in the event that a member died or lost a close relative.
The burial society managed to sustain itself during the white settler government until Zimbabwe gained its Independence in 1980.
The attainment of independence was a boon for ZBS as former freedom fighters coming from the war joined, though membership was still restricted to people from Gutu only.
The society became even more popular after the late Vice-President Dr Vengesai Muzenda joined on behalf of his mother.
Other prominent people like Shuvai. Mahofa and Tafara Madondo later joined the society and helped to grow its stature in the eyes of the public.
It is against this background that ZBS began to spread its wings to other places outside of Masvingo province, with branches being opened in different areas like Gweru, Gokwe, Muzarabani, Shamva Murehwa and Mutoko.
The organisation has so far managed to broaden its objectives, venturing into other relevant areas including coffin making, purchasing burial land in their main branches and purchasing lowering machines.
With a relatively low joining fee of US$10 , people who earn little have a reliable form of life insurance at a time when burial costs have become a headache for many.
Upon joining, a new member also pays US$17 transport fee and is then required to pay monthly subscription fees of US$3.
The funeral plan provides cover for a member, his/her spouse, children below the age of 21, parents of the member, in-laws and the disabled who are in the care of the member.
Meanwhile, the society has also embarked various charity projects targeting less privileged children whose parents cannot afford to send them to school.
Such children are sent to school with all the fees and other costs of going to school being met by the organisation's social welfare fund.
With other profit-driven funeral companies dominating the industry, ZBS has managed to improve its services in order to attract members.
"We have managed to improve our facilities and services to stay ahead of funeral companies that are there to make profit out of bereaved people. We are glad that many people are still coming to us," said Dzvimbu.news
—
Tel : +263 39 262 401

He who said it can not be done must not disturb the one doing it!