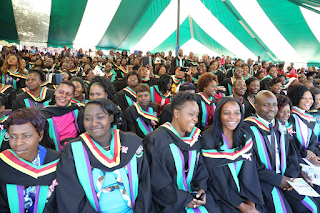 MASVINGO-
A record 210 students graduated with
distinctions during the Masvingo Teachers' College 35th graduation
ceremony last week.
The
graduation ceremony ran under the theme 'Developing a relevant teacher for
Zimbabwe's middle-class economy status by 2030'.
A
total of 438 students graduated with 175 from Intake 10 of the General Course
and 236 from the Early Childhood Development (ECD) Course.
Out
of the 438 who graduated, 301 were females from which 79 were from the General
Course and 220 from ECD.
Three
female students graduated with the maximum number of distinctions which is
pegged at four.
The
graduation ceremony was officiated by minister of Higher and Tertiary Education
Professor Amon Murwira who highlighted the need to create employment creators
and not employment seekers.
"Masvingo
Teachers' College is an Information Communications Technology (ICT) centre and
this works to the advantage of the students for they can use the information
and technology to change the economy.
"We
recently made Masvingo Teachers' College an ICT centre because of its
excellence. Post-colonial education should be employment creation and not
employment seeking," said Murwira.
Masvingo
Teachers' College principal Benson Mutambudzi congratulated all the graduates
and expressed his gratitude to the lectures who worked tirelessly.
"Congratulations
to Intake 10 and ECD 8 students for your remarkable achievement which we
joyously celebrate today. To all our teaching staff I say thank you for working
hard and for not giving up on our students," said Mutambudzi.
The
Vice Chancellor of the University of Zimbabwe (UZ) Professor Paul Mapfumo
praised Masvingo Teachers' College for being one of the few institutions which
offers diversity.
"I
am impressed by the way Masvingo Teachers' College operates. According to the principal's
speech, you offer practical subjects like Agriculture, Music and Home Economics
and these subjects are in line with Education 5.0," said Mapfumo.