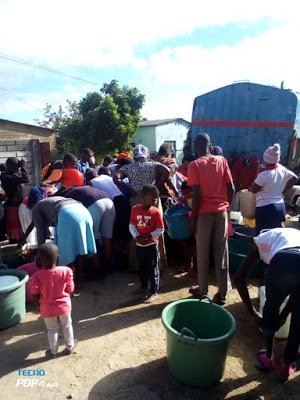 ...as residents ignore
Covid-19 regulations
Clayton
Shereni
MASVINGO
–
Concerns have been raised over the emergence of 'bowser queens' who are now
taking advantage of the water crisis in the city to arrogate themselves roles
as coordinators of emergency supply points.
In high density areas
especially Sisk (1st-6th streets), some women have gained notoriety for
corruptly using their newfound powers to their own selfish advantage.
This came out during a
Women's Coalition of Zimbabwe (WCoZ) workshop on Strengthening Women's Advocacy
for Inclusive Governance (SWAG) in Masvingo.
It was heard that the
so-called 'bowser queens' give themselves and their friends special treatment
at water delivery points.
Kesani Chihlangu, a
WCoZ health cluster leader, said the bowser queens demand to get water first
ahead of everyone else, by claiming that the water bowsers come as a result of
their efforts.
"The bowser system is
not workable especially in Sisk because a bowser is parked at certain houses
where the owners get special treatment ahead of others. If you ask why they get
such kind of treatment, they openly tell you that they themselves called the
bowser driver so they deserve to get water first and without limit," said
Chihlangu.
Contacted for comment,
Masvingo Mayor Collen Maboke said he had not received a formal complaint.
"I have not received a
formal complaint over that issue of bowsers yet. However, a long time ago I
once saw water being delivered in Second Street and I asked why it was not
being done at the designated Border Grounds but I did not get a satisfactory
answer. My office is open for any complaints, water should be delivered at
public places not in houses," said Maboke.
Complaints have also
been raised over the bowser schedules some of which are in violation of curfew
time which starts at 22:00hrs.
Residents' pressure groups
claim that women and youth are being harassed after fetching water from the
bowsers and community taps late in the night or in the earliest hours of the
day.
Masvingo United
Residents and Ratepayers Alliance (Murra) programs manager Rumbidzai Magurupira
said the bowser system was commendable but called for the emergency water
supplies services to be given during the day.
"While the bowser
system has come in handy as a mitigation measure against the water shortages,
we are concerned with the scheduling. The bowsers do not get to all areas in
equitable fashion. We call for fairness and equity in the distribution system.
Magurupira implored
council to put an end to the menace of water barons who are monopolizing water
at delivery points.
"Another worry is that
some individuals have become water barons and are monopolizing bowsers at
delivery points, controlling and deciding who gets water. Council should put
measures to stop these unscrupulous individuals and ensure that all residents
get water on an equal and fair basis," said Magurupira.
Others said the bowser
water distribution points were possible coronavirus infection hotspots unless
effective control measures were put in place.
Residents jostle for
the precious liquid and fail to maintain social distancing while council fails
to enforce 'no mask no water' rule.