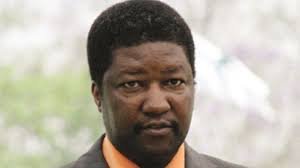 Fungai Mbetsa
Masvingo Provincial
Administrator (PA) Fungai Mbetsa said the installation of Phineas Tafirei as Chief
Bere following his appointment in July will not be reversed but has only been
postponed to a later date by Minister of Local Governance, July Moyo.
Mbetsa
said the appointment was made by President Emmerson Mnangagwa and the
installation had only been delayed but not cancelled.
"The
installation of Chief Bere was postponed by Minister Moyo for now and it is the
case with all the pending installations across the country.
"It
is the President himself who appointed Chief Bere through the office of Minister
Moyo so those who see the delay as a reversal need to know the facts of the
ground," said Mbetsa.
The
Bere clan lost their chiefdom in 1925 during the colonial era.
As
a corrective measure, the Bere clan will get back their chiefdom which will
take the whole of Ward 4 which has been under Chief Zimuto and five other wards
under Chief Charumbira.
Chief
Charumbira, whose chiefdom stretches seven wards, will be left with only two
wards. Chief Charumbira is also facing a fierce fight from the Nemamwa clan who
believe they were robbed of their chieftaincy.
The
installation of Chief Bere was supposed to take place on July 30 but was
postponed after people from Charumbira stormed the venue saying they will not
allow another chief to be installed and take away their land.
Five
houses namely Mboko, Mambanje, Mupariri, Mudyiravanje and Makamuri are all in
line to the Bere throne.