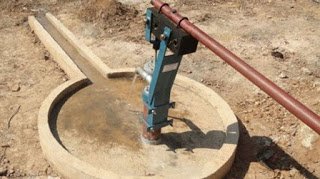 …children walking 12km
to school
NYAJENA
– Three
villages with close to 300 households in Kuchakanya area under Chief Nyajena in
Masvingo South constituency are sharing a single water point.
The three villages,
Kuchakanya, Maramwidze and Village 24 are sharing a single borehole located in
Kuchakanya village.
Kuchakanya village head
Munyaradzi Dzivakwe confirmed the sad situation saying the area had seen no
meaningful development since they settled there.
He said water shortages
were among the many problems they faced as a community.
"We are sharing this
borehole with two other villages. My village has 98 households and each of the
other villages has close to the same number of people which is too much for one
borehole.
"We were grateful for the
rains we got this year as some are now drawing water from wells but that does
not last long as most of them are already drying up. We will soon be forced to
converge at the same borehole again," said Dzivakwe.
He also called on the
responsible authorities to intervene and help with the construction of a
primary school and save the children who travel long distances to Chitakai Primary
and Mudarikwa Secondary or to Tugwane High where they do bush-boarding.
"We have no school in
our area and our children travel close to 12km to Chitakai Primary and to
Mudarikwa Secondary and the distance is almost the same. Those who afford can
send their children to Tugwane High where they do bush-boarding in the nearby
area where they vulnerable to many vices," said Dzivakwe
Maramwidze village head
Elliot Taruberekera said his village had 85 households and all relied on the
borehole in Kuchakanya village saying their area has never seen any development
since time immemorial.
He said they used to
have a borehole in their village but it broke down a long time ago and has not
been repaired because the pipes were too old and needed replacement
"We used to have our
own borehole here but it was damaged and it needs extensive repairs. However,
the pipes are worn out and new ones are needed if we are to repair it," said
Taruberekera.
On issue of shortage of
schools, the local leader said they had mobilized resources to construct a
primary school in Kuchakanya village.
He said a classroom
block had been constructed and was now at beam level as the community had
exhausted all the resources.
"The local authority
allowed us to construct a school in the area and we have tried our best but now
we are stuck as we do not have resources to complete the project.
"We once contacted our
local MP Claudious Maronge who gave us 10 bags of cement for the block. He said
there was another secondary school project at Chamanhanzva which he was also
assisting so resources were also scarce for him but if he is done there, he
will come and give us more help," said Taruberekera