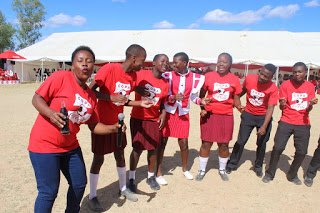 Lloyd Shunje
The local football mother body Zimbabwe Football Association (ZIFA) and the National Association of School Heads (NASH) have warned against age cheating ahead of the Copa Coca-Cola Boys and Girls tournament next month.
Speaking at the launch of the tournament at Dewure High School last Friday, ZIFA vice president Omega Sibanda said the football mother body will take decisive action against teams that falsify the ages of their players.
"Age cheating is cancer that is haunting our football badly in the country, NASH should
make sure that this is dealt with at this level.
"You should not punish the student for cheating but the system which encourages cheating that is the school and parents," Sibanda added.
NASH President Johnson Madhuku said this year's edition will involve strict vetting methods that have been put in place to curb age cheating in the tournament.
"We want to eradicate age cheating and make sure those with the right age participate. Players should have birth certificates obtained within the first seven years of birth," said Madhuku.
"In addition all players should produce grade seven result slips and a team photo will also be produced that will have been used from the zonal level up to the final stage of the tournament," added Madhuku.
The tournament, which will quick start on May 27 with zonal competitions across the country, will see Dewure High School's under 16 boys' team and Chidyamakono High school's girls' team going in as defending champions in the nationals that will be held in Gwanda's Pelandaba stadium between 22 and 24 July.
Both Dewure and Chidyamakono confirmed that they are raring to go and insisted that they will retain the trophies.
Chidyamakono High's under 17 girls' team will go to the nationals as defending champions after dismissing St Francis by a goal to nil last ear to claim their third successive tittle in a row.
Dewure were crowned champions last year after beating Rujeko 4-3 on penalties in Bulawayo.
—
Tel : +263 39 262 401

He who said it can not be done must not disturb the one doing it!