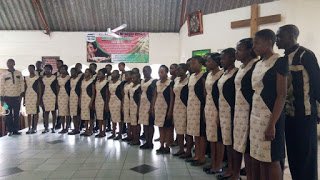 Moses Ziyambi
The Masvingo Innercity and St Phillip youth choir groups last week displayed their singing talents with an outstanding performance at the Zimbabwe West Annual Conference (ZWAC) Choral Music Festival held at UMC Bethel congregation in Bulawayo.
Organised by the United Methodist Youth Fellowship (UMYF), the competitions brought together a total of 33 choirs from all the six districts.
The Innercity choir made their debut in the prime Group A into which they were promoted and shrugged it out against 23 other choirs to emerge at number eight with the first, second and third positions going to Kuwadzana, Harare Innercity and Glenview respectively.
Newcomers St Phillip put out a splendid performance, battling eight other teams in group B to grab an impressive number three with number one going to Bindura while Mutoko's Chinzanga settled at number two.
At number three, St Phillip have already secured their place at the upcoming Zimbabwe Episcopal Area conference choral competitions which will be held on July 9, 2016, in Waterfalls, Harare.
"We are pleased with the performance of our children; they represented us well in Bulawayo and they did their best to bring us proud," said UMYF District Advisor Shailet Dumba.
The upcoming competitions will bring together all the 13 districts that fall under the UMC Zimbabwe Episcopal Area, meaning the going will be at its toughest for participants.
UMYF Cabinet Representative and UMC Masvingo District Superintendent, Reverand Jairous W. Mafondokoto said he looked forward for more exciting developments in July.
"I believe in the immense capabilities of our youth and we encourage them to continue singing for the Lord. I am confident they will not at all disappoint wherever they may go, no matter how stiff the competition gets," said Rev Mafondokoto.news
—
Tel : +263 39 262 401

He who said it can not be done must not disturb the one doing it!