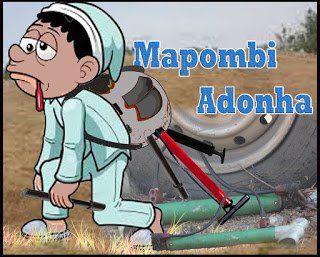 Kkkkk Aaron Chiundura Moyo is indeed a prolific writer. His novel Nguwo dzeuswa speaks volumes about the country's situation in the country. Hanzi matengumutinya nguwo dzeuswa kana wakadzisimira haukwanise kugara pasi; ukaramba wakamira makumbo anozvimba, ukada kudzimura moto dzinobatira uye kukapisa dzinososona kkkkkkkk sando kuna Chiundura Moyo.
Mapombi is not as learned as Cdes in government but nyika yava matengumutinya iyi – mamvemve akaonekwa naThomas Mapfumo. Our government is full of educated and learned people but nyika yava mamvemve! E-eh they are book worms – full of Doctors (PhDs) wozodeyi. Kkkkkkk kuti Dr Ignatious Chombo, Dr Obert Mpofu, Dr Dofora – aah its Dokora, Dr Walter Mzembi, Dr Chidhakwa, Dr Made kkkk ndokudzidzaka uku amana. Hapana hapo chinozivikanwa asi vanhu vakadzidza ava. We also have Dr Grace Mugabe – ooh by the way she is not in government. Ko ivo varipiko Dr Amai these days – Mapombi avasuwa zvisingaite! Wish if I can meet Dr Gire, wish I had money to go with Dr Amai kudinner like Wicknell Chivhayo – you never know I might be given tender ndikatosiyana nekugara kuDr Grace Market Centre kunonhuwa uko.
Like Mapombi said, our government is full of educated people asi chokwadi ndechekuti hapana zvinozikanwa! They don't even know where our $15 billion is and they are busy introducing Bond Notes to cover up – we want our $15 billion Cdes. We condemn corruption zvachose. Where is the police? We want to know what happened to our $15 billion.
By the way, does Masvingo province have uye unonzi kuPolice Officer Commanding Masvingo Province? Mapombi doubts very much – or kana aripo then arikurara pabasa. Wake up shefu! It is very disturbing how police in Masvingo is so obsessed nenyaya dzekutorera vanhu mari paroadblock. They even changed terminology and those admission of guilty tickets vave kutomati mareceipts. Kkkkk hanzi icho chipipi chadarika icho wachipa here receipt yacho – nonsense! Are our roads are fast becoming fund raising platforms for our police? They don't care about people's lives as long mota dzapiwa mareceipts ivo vachiita mari. Honestly how can they allow a ramshackle vehicle to ply Mucheke/Rujeko – town route yakazara vanhu simply because yabhadhara ticket? So vanhu vofa nekuti mota yabhadhara ticket kuPolice? Are police tickets new motor vehicle fitness certificates because with a police ticket you can drive to anywhere uchingoriburitsa at any road block. Officer Commanding kana muriko wake up please.
Engineers have spoken about the Mucheke Bridge roadblock and they warned that the bridge will collapse if Police continue to conduct the roadblock there. Mapombi thinks you should read newspapers – even your Public Relations department should read newspapers too. Mucheke bridge is more important to the nation than the few dollars you are collecting from that roadblock. Accidents are happening at that bridge on a weekly basis thanks to the Police roadblock. Police Boss please tinyareiwo!
Anyway, what happened to this meaningless one million-man march? Kkkkkk Zanu-PF inombogumirwa vakomana! I know there are educated people in Zanu-PF from Doctors to Professors but kuzounganidza vanhu One million muHarare zvingabuda? We should pardon these guys because they might have mistaken the figures as you all know that age is fast catching up with most of the Cdes – vazhinji dzangova hari dzofanzirofa as Zhuwao rightfully said kuti ari kushanda nemadhara mucabinet umu.
Mapombi is very sure they wanted to say 100 000-man march not one million. Vanenge vakavhiringika pamazero apa – they should have consulted Dr Gideon Gono the man who knew how to slash zeros – kkkk musandifungisa 2008 veduwe because vanhu kwedu kwaChirimudombo vakaita kunhonga svosve nemuromo. Those Bearer cheques nxaa. Kutonyora kuti I promise to pay the bearer on demand – haiwawo musaramba muchitipedzere nguva yedu imi.
We know it's just a matter of semantics – these so called Bond Notes are no different from the Bearer Cheques but be warned Cdes, dziva guru idiva kamwe ukadzoka kepiri unowana ngwena dzasvinura. Iiih nhasi zvangu nyaya yengwena yondotaura iyi ndichapinda busy neGeneration 40 (G40). Mapombi is not referring to Ngwena yeTeam Lacoste guys but ngwena, ngwena chaiyo yemudziva kani akomana. But Mapombi heard Team Lacoste iri pamahwani in Masvingo these days. Everyone is denouncing Team Lacoste. Kkkkkk zvinoita politics akomana.
If you want to survive in Zanu-PF, here are the few tips – know that Mugabe is always right. Do not despise the First Family – Dr Gire havatukwe, Bona haatukwe, Robert Jnr naChatunga havatukwe. Just that! Period!
Also think of anything and say it's a way of honouring President Mugabe or Dr Amai. Even naming Chitima market after Dr Grace Mugabe its fine. Don't mind how stinking the place is – kkkk asi zvimwe munozonyanya veduwe Chitima nekunhuwa ikokuya nemaziplastic iwo aye kwava kutoti Dr Grace Market Centre ipo paye? Inga munomudzikisirawo Grace wacho – honestly that was a mockery and not an honour. Think of something even like 100 war vets marching to prop up support for President kkkkkkk but please not One million-man march haibudi tinozviziva.
Mapombi is very much aware that some media houses will lie today saying the one million-man march was a success but we all know the truth. People cannot be fooled anymore! Mboko imboko!!!news
—
Tel : +263 39 262 401

He who said it can not be done must not disturb the one doing it!