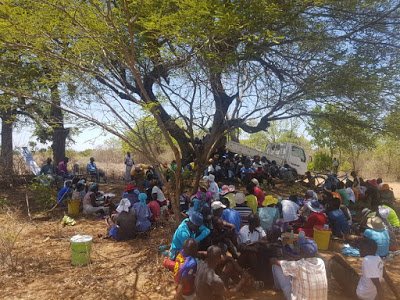 Part of the crowd that attended the meeting
ZAKA –
The
Community Tolerance Reconciliation and Development Trust (Cotrad) in
partnership with the Action Accountability Group (AAG) for Ward 19 have begun accountability
programs as part of their community development work in the district.
Speaking at a
community accountability meeting in Chipezeze village recently, Cotrad programs
manager Zivanai Muzorodzi said the initiative involved capacitating the
community to demand accountability from public officials.
"There are many
areas that need close monitoring from community members. We feel we can play a
role by partnering the community in monitoring how both elected and non-elected
officials are doing their duties. We need to help the community see if their
leaders are fulfilling election promise and if allocated resources are being
used fairly and transparently.
"Many people
feel that budgets are not being adhered to and resources are being used on
non-priority areas. We are therefore here to help each other understand the
importance of social accountability monitoring," said Muzorodzi.
He said without
paying close attention to how public officials administer services, it was
difficult if not impossible to measure their performance and give people an insight
into how governance issues were being handled.
AAG member Mercy
Muziri said as a group, they were already working to encourage the youth to
monitor public officials in order to make wiser electoral choices in 2023.
"We have
already started mobilising those who didn't vote this year but will be eligible
in 2023 and the response is overwhelming," said Muziri.
Members of the community
also called upon Cotrad to assist the youth to develop their business ideas so
as to further their participation in the economy and decision-making processes.
"Some of us
are not that much educated so we would like to appeal to Cotrad to help us in
any way possible so that we can embark on projects that can sustain us,"
said one participant.
Cotrad is a
Non-Governmental Organization (NGO) concerned with many issues including fostering
the youth's participation in public issues as well as building cohesion and
tolerance in communities through lobbying, advocacy and capacity building.