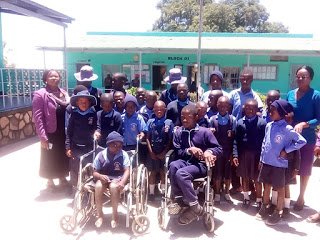 MPANDAWANA –
Gutu
United Primary School has appealed to well-wishers to provide donations to fund
its resource unit for the improved teaching of children with various forms of
disabilities.
The
school's programme for physically-challenged pupils started in the early 1970s
but has never been fully up due to lack of resources. The present classes has
33 pupils.
Gutu
United Primary head, Elizabeth Chitsva said the school was facing many problems
in its attempts to fully integrate children with special needs.
"We
are faced with many problems in our attempts to capacitate that area. We do not
have suitable teaching materials required for the special needs class. There is
a high rate of drop outs due to lack of transport; some pupils are wheelchair-bound
while others come from very far away. It's difficult in this economy for
parents to send their children to school. We urgently need a helping hand,"
said Chitsa.
She
said the council-run school could do better if it was to be capacitated with
boarding facilities for children with various forms of disabilities.