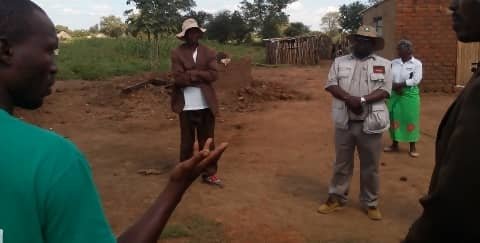 …'food
donations alone not enough'
Beatific
Gumbwanda
CHIREDZI
–
Zanu PF national political commissar Rtd Lt Gen Engelbert Rugeje last week urged
well-wishers to do more than just donating food and clothing to Cyclone Idai
victims, saying the people needed to be helped to build better homes.
Speaking at Mashoni Rashai homestead in
Chiredzi North during a tour of Ward 24 where many families were left homeless
by the raging cyclone, Rugeje said villagers needed to be helped to get proper
building materials for them to construct strong houses.
During the cyclone, Rashai and his
eleven children lost their main bedroom house while other tiny houses were
flooded with water and the family currently shelters in those two tiny houses.
"People should be assisted with
building materials so that they will be able to construct proper and strong
houses. This disaster is just the beginning; more disasters of this kind will
come us so we need to prepare ourselves by constructing strong houses,"
said Rugeje.
He urged parliament to enact laws on
minimum specifications that must be followed when rural houses are constructed.
"We need to enact laws with set
standards on housing construction. Obviously, it will be difficult for the
less-privileged due to economic stresses but government will do something to help
them. We as a party are superior to the government so we will dictate the pace.
Rural communities should be helped to modernise their structures in order to
save the nation from continued loss of life due natural disasters," said
Rugeje.
Rugeje brought with him 18 litres of
cooling oil, 180 kilograms mealie meal, 20 kilograms rice, 29 kilograms sugar,
12 litres Mazoe juice and 12×500ml Vaseline which was shared among 10 families
that were affected by the cyclone.
An estimated 253 families were affected
in Chiredzi North though no life was lost.