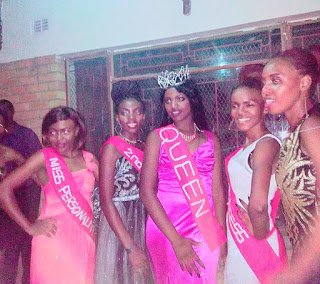 MWENEZI
–
As part of efforts to empower the girl child and nurture talent, former Miss
Masvingo 2011, Loren Hama recently organised a modelling contest for local
models.
The
colourful was held at Rutenga growth point on December 14, with seven girls
competing in three categories namely traditional, casual and evening wear.
Thandiwe
Mzembe, a form three pupil at G and N Secondary School, was crowned Miss
Rutenga 2019.
Hazel
Mastilele of Sacred Heart High School won the first princess title while Hilda
Ngwenya was named second princess. Angela Mangoya, a Sacred Heart High form
three pupil, was named Miss Personality.
Event
manager, Chido Muungani expressed gratitude to the Rutenga business community,
vendors and identified individuals for supporting the show.
She
said the initiative was aimed at helping to empower female children by growing
their confidence and the belief they have in their own capabilities.
"The
idea is to make sure that girls especially from disadvantaged communities are
helped to gain exposure. Through modelling, we are communicating that the girl
child has the potential to succeed in life regardless of social backgrounds.
"Through
such initiatives as this, we are sending a message to the girl child that she
can develop herself and contribute meaningfully to community development," said
Muungani.
Cllr
Albert Mashiri, who graced the occasion as guest of honour, praised the event
organisers for bringing a unique event to the area.
"Since
time immemorial, such educative and informative events have been a preserve for
big urban communities. I am glad that modelling has been demystified and
brought to our own doorstep for the good of our community.
"It
is our hope that the event will grow bigger such that more girls from all
corners of the district can participate," said Cllr Mashiri.