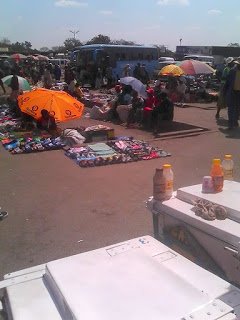 The
Gweru Vendors Association (GVA) in
partnership with Zimbabwe Chamber of SMEs (ZCSME) Gweru chapter recently
engaged Gweru City Council over the intended demolition of illegal vending
structures at Kudzanai Bus Terminus.
The
joint forum presented possible solutions to the council in an effort to stop
eviction of vendors.
On
August 02, Gweru City Council, through their lawyers Danzinger and Partners,
wrote to vendors operating at Kudzanai Bus Terminus, giving them a seven-day
notice to remove their structures and vacate the place.
"We address you on the instructions from our
client (city of Gweru), that you wrongly and unlawfully erected some structures
within Kudzanai terminus and are operating from there. Our client further
informed us this was done without authority or payments made to council.
"We
have been accordingly instructed to demand from you as we hereby do that within
7 days of the date of the letter that you demolish and vacate the terminus,"
reads the letter.
Speaking
at a media briefing later on, ZCSME Midlands provincial organising secretary,
Tafadzwa Mazorodze said they presented their proposals to the mayor.
"We
engaged the mayor and submitted proposals on how best we could work with council
to prevent demolitions since we are now approaching the rainy season.
"Some
of the structures have been there for a long time and we feel that is the right
place for our people to do business at least until this time next year.
"We
also visited the office of the DA and presented out grievances. Council has
since agreed to build new vendor stalls to be leased to our members," said
Mazorodze.
GVA
organising secretary Letisiwe Mteliso said the seven-day notice given by the
local authority was too short.
"Mayor
Josiah Makombe reversed the decision to have the structures demolished as he
wanted to engage with us regarding the way forward. He was also showed that we
was concerned with a good operating environment for all informal traders
because unauthorised food sellers have emerged at Kudzanai thereby putting
people at risk of typhoid and cholera.
"We
agreed to close the food businesses and allow only people selling non-food
items to do business. We also agreed to clean the toilets and the surroundings
ourselves," said Mazorodze.
Meanwhile,
the Zimbabwe Chamber of Small to Medium Enterprises has demanded that

vendors be given papers to legalise their
operations as they are contributors to the national economy.