Masvingo mayor Hubert Fidze bemoaned the on-going massive termination of jobs by both government and local authorities saying low morale among workers in the country is affecting the quality of services delivered to an ordinary citizen by the municipality.
Fidze made the stunning revelation at a public debate on the current wave of job losses facilitated by Community Tolerance and Development Trust (COTRAD) and Tell Zimbabwe Trust

at Charles Austin Theatre recently.
"I want to set the record straight… we are against the firing of workers because that is affecting our service delivery. Once workers are demoralized through working in an environment where they are not sure on whether they are still needed at work, they (workers) are likely going to perform their duties half-heartedly thereby compromising on the quality of services they render to an ordinary citizen," said Fidze.
Ironically, the Masvingo City Council fired three of its workers last week. The trio

was very vocal and actively involved in fighting for workers' rights.
The three are

Bonface Mazarire, Manasseh Wunganai and another one only identified as Ruzangwe.
But Fidze refused to be drawn into the issue during the debate as he mantained that his council was even under staffed.
"I maintain that as council, we need to employ than to expel workers," said Fidze.
However, in a separate interview, Masvingo City Town Clerk Adolf Gusha said the council only fired three workers not the entire committee as previously alleged.
"All I can say is that we fired three employees… I cannot give you further information about the fired people because it is confidential information," said Gusha in a statement.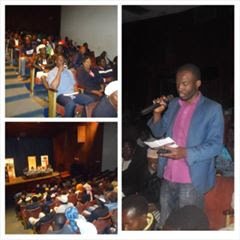 Prosper Tiringindi of MRT asking Fidze during the debate
Movement for Democratic Change (MDC-T) representative at last weekend's debate Simon Mupindu said it was unfortunate that some politicians blamed Nelson Chamisa – a senior MDC-T member for representing employers -Zuva Petroleum in a Supreme Court case which set the bases for the massive job cuts.
Mupindu who is a lawyer by profession said Chamisa is still under tutorship and he was only learning on how cases are handled.
"I have a copy of the judgment here and Chamisa's name is not there… you can go on the internet and search for the judgment and Chamisa's name is not among the lawyers who represented Zuva. I am sure some people just wanted to tarnish Chamisa's name…he is a junior lawyer under tutorship and he cannot be blamed for going there to learn," said Mupindu.
Meanwhile, all political parties that included Zanu PF and MDC-Renewal agreed that the government should urgently move in to stop massive job cuts.local