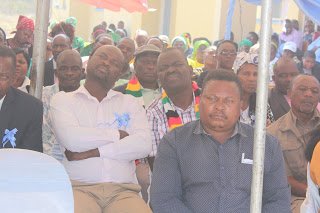 Claudious Maronge (centre)
Star
Matsongoni
Masvingo South MP Claudious
Maronge has pledged to pay next term's school fees for outstanding pupils from
Grade 1 to Grade 6 at Muchibwa Primary School.
The school head Brian
Gomba expressed his gratitude to Maronge saying many pupils at the school
deserved such kind of assistance and motivation.
"That would be a great
job done for the talented ones and those who are disadvantaged. Such a move
would assist the children to remain in school and to appreciate the importance
of all acts of kindness," said Gomba.
He said the school had
already compiled the list of names of the deserving beneficiaries and forwarded
it to Maronge.
"Some six pupils will
benefit from assistance. We have picked the best pupil from each stream from Grade
1 to Grade 6 and they have already been provided with stationery;

each receiving 30 exercise books, five pens,
four pencils and a satchel," said Gomba.
Maronge also donated
$1000 towards Mashapa Primary School end-of-year-the-year 2019 party.
Mashapa Primary School
registered a 95 percent pass rate in the 2919 Grade 7 examinations, making it
the best performing primary school in Masvingo South for the first time ever.