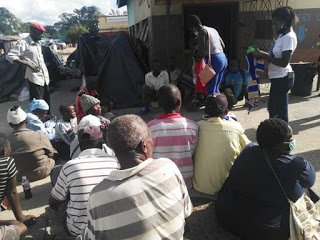 People living in shacks at Mucheke bus terminus waiting to receive donations
Perpetua
Murungweni
Social Economic Action Transformation
for Humanity (SEATH) in conjunction with Chosen Generation (CG) and Zimbabwe
Youth Relief and Development Trust (ZIMYORD) last week donated clothes to
disabled squatters living in shacks at Mucheke bus terminus.
The disabled squatters have been living
at Mucheke bus terminus for close to a decade with the authorities turning a
blind eye on their plight.
SEATH, CG and ZIMYORD officials said
they found it fit to help the disadvantaged in the community calling on the
government to chip in and provide shelter for the disabled squatters.
"These people have been ignored for far
too long and it is our hope that the government will chip in and provide proper
shelter for them.
"The donation we made was the little we
could do so that they do not feel isolated or abandoned.
"You find that the squatters have
survived a lot of the years and the Covid-19 pandemic threatens their existence
hence the need to take appropriate actions now," said SEATH founder Tendai
Mafuka.
The disabled squatters survive from
handouts and begging in the streets.
One of the beneficiaries who found a
home at the Mucheke bus terminus because he was abandoned by relatives when his
parents died while he was still young said he was stigmatized because of his
epileptic condition.
"I ran away from home because all my
parents passed away when I was young and no one wanted to take care of me
because I suffer from epilepsy.
"I found it easy here in the streets
where I can beg for money to buy my medication and to buy food.
"The donation is a sign that there are
people out there who still care about us," said the beneficiary.
The ambassador of young people with
disabilities and the director of Chosen Generation Vimbai Chese expressed
gratitude towards the donations saying they go a long way in alleviating some
of the challenges faced by the disadvantaged people in society.