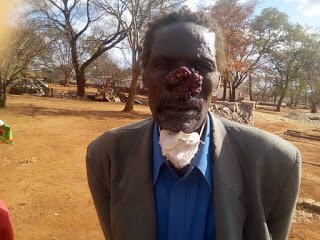 Muzenda Matake
MWENEZI –
An
elderly man from Ward 13, Mwenezi East, is suffering from a cancerous condition
which has completely savaged his nose, leaving him to breathe only through the
mouth.
The
swelling occasionally raptures in a painful manner and the bloody substances
that come out of it block what is left of his nostrils.
TellZim
News caught-up with the unemployed Muzenda Matake who hails from headman
Mungoni under Chief Chitanga.
Matake
said he had visited a local clinic when the problem had not yet become as much
pronounced but had not got much help.
He
said nurses referred him to a private doctor in Chiredzi but he could not raise
the money needed for the treatment.
"When
I visited Damarakanaka Clinic they did not give me any treatment but they
referred me to Chiredzi where I saw a private doctor who wanted money which I
failed to raise. I am just an unemployed man and I cannot afford to raise the
money for the treatment," said Matake.
The
elderly man, who was visibly in agony as he narrated his condition, said his
health problem started sometime in 2014 with a small pimple in one of his
nostrils.
The
pimple continued to bulge and in March this year, it got out of hand; completely
blocking his nostrils and making it impossible for him to breath.
"Nurses
could not tell me what caused it. I was just advised to clean the ulcer using salty
water but there is no sign of healing. I even tried to get help from
traditional healers and prophets but all in vain.
The
situation is getting worse each passing day. For many weeks now, I have been
using my mouth to breath. Walking is becoming problematic and my only hope is
for well-wishers to help me get medical attention," said Matake, whose wife is
disabled.
Matake's cellphone number is 0775560697.